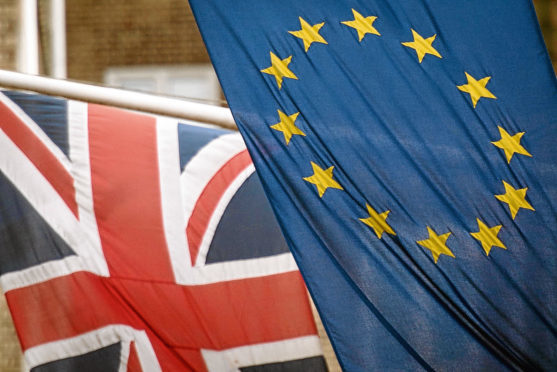 SNP Westminster Leader Ian Blackford has accused the prime minister of "sheer irresponsibility", warning any move by the UK Government to leave the EU without a deal would be "madness".
The Highland MP also charged Theresa May with letting down her constituents, as well as people across the UK by "willingly going to take part in actions that are going to lead to economic self-harm".
He said: "That is an act of sheer irresponsibility of any politician, in particular of any prime minister and I think I have an obligation to state that."
The remarks came as Mrs May, under unending pressure from her back-benches, arrived in Brussels to address EU leaders ahead of further talks.
Before leaving, she made clear in the Commons that she would not accept any so-called backstop arrangement that drew a border between Northern Ireland and the rest of the UK.
"We continue to work for a good deal with the European Union – a deal that delivers on the Brexit vote but also a deal that protects jobs and livelihoods and crucially that protects the precious union of the United Kingdom," she told MPs at Prime Minister's Question Time.
"We will not accept any proposals which would effectively break up the UK."
Scottish Secretary David Mundell has said he would be prepared to resign over any Brexit deal that threatened the integrity of the UK.
And yesterday he vowed to defend the union "until my last breath".
He told MPs at Scottish Questions: "I make no apology for making absolutely clear that the integrity of the UK is a red line for me and my Scottish Conservative colleagues in any deal on leaving the EU.
"The position is exactly the same for our prime minister."
As the rhetoric reached fever pitch, it emerged EU chief negotiator Michel Barnier may be prepared to extend the 21-month transition period after Britain leaves the bloc to allow time to negotiate an alternative arrangement.
Mr Blackford, who is due to meet Mr Barnier next week, welcomed this news on the grounds it would keep the UK in the single market and customs union "at least in the short term".
He also argued a referendum on the final Brexit deal, a so-called People's Vote, should be looked at if either no agreement is reached between the UK and the EU or if it is a "bad deal".