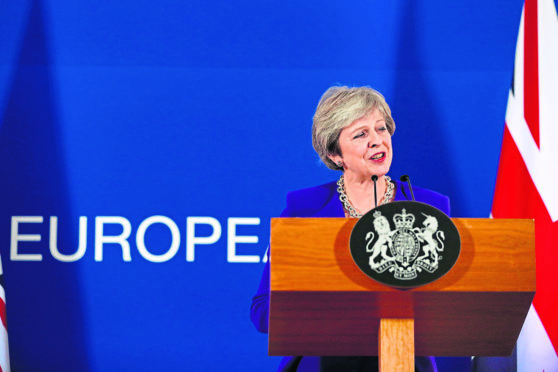 The prime minister remains committed to keeping fishing negotiations separate from trade discussions in Brexit talks, the Press and Journal can reveal.
North-east Tory David Duguid said he had been personally reassured by Theresa May that fishermen's rights would not be up for grabs in a wider economic deal.
But he also pledged not to sit back or be complacent on the issue, vowing to keep it front and centre as the UK moves closer to the EU exit door.
His intervention came as the fisheries bill was due to be introduced at Westminster.
The legislation is expected to set out the UK framework that will replace the Common Fisheries Policy (CFP).
Banff and Buchan MP Mr Duguid, who leads on the issue for the Scottish Conservative group at Westminster, said: "The Government are very deliberately keeping discussions on trade and discussions on access as separate discussions.
"They are not part of the same discussion. There is no precedent for any free trade agreement being dependent on access to the other nation's natural resources.
"I have previously been assured by the prime minister that discussions on trade and fishing access are being kept separate.
"That said, I'm not going to let it lie or take anything for granted."
Bertie Armstrong, chief executive of the Scottish Fishermen's Federation, added: "We are making predictions here about the outcome of a negotiation that is yet to be completed.
"However, all the evidence that presents itself … would lead us to believe the sea of opportunity is within our grasp."
Under current arrangements, EU-based vessels land around eight times as much fish in UK waters as UK fishermen do in EU waters.
And fears have been raised that access to fishing resources could therefore be used as a bargaining chip with the EU in exchange for preferential market access for the City of London for instance.
One Tory warned earlier this week that Chancellor Philip Hammond would throw the rights of UK fishermen "under a bus in a heartbeat" if it meant securing the latter, a claim the Treasury last night rejected as "completely untrue".
And yesterday Mrs May's official spokesman said fishermen should feel reassured their interests are being properly looked after at the negotiating table, pointing to the government's Sustainable Fisheries for Future Generations white paper, released over the summer.
Outlining it in a piece for the P&J at the time, UK Cabinet Office Minister David Lidington insisted fisheries would be a "separate strand of our future relationship with the EU to the economic partnership" with the former negotiated on an annual basis alongside other independent coastal states.
Concerns have also been voiced that the UK could be bound by CFP rules beyond December 2020 if a transition extension is agreed.