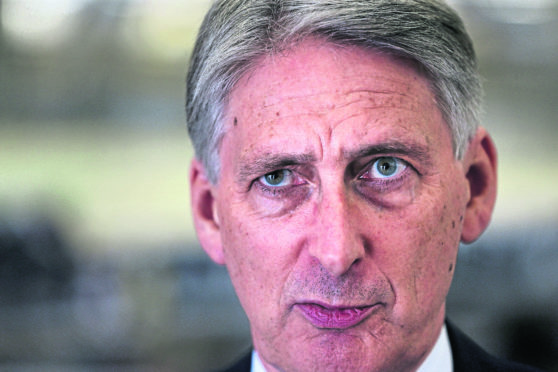 Chancellor Philip Hammond has announced an additional £1billion for defence spending in the Budget.
The Tory frontbencher said there had been "stark reminders" over the past year of the "scale, scope and complexity of the threats we face".
And he stressed that as a former defence secretary he understood the "immediate pressures" facing the Armed Forces.
He said the money would boost the UK's cyber capabilities, anti-submarine warfare capacity and maintain the pace of the Dreadnought programme to ensure continuous at sea deterrence.
The Treasury said that together with funding announced in March, defence will have benefitted from an additional £1.8billion over 2018-19 and 2019-20.
And there are plans for a "comprehensive consideration" of defence spending next year.
This will be based on a review currently being conducted by the defence secretary, Cabinet Office and Treasury into modernisation in response to the changing threat.
West Aberdeenshire and Kincardine MP Andrew Bowie, a former Royal Navy officer, welcomed the news.
He said: "This initial commitment to the Armed Forces comes ahead of a spending review next year.
"The secretary of state has been very active against the prospect of cuts to the defence estate, and this is surely an early vote of confidence for Britain's service personnel.
"The express commitment to the Dreadnought programme especially is signal of this government's commitment to our independent nuclear deterrent."
But SNP defence spokesman Stewart McDonald accused the chancellor of throwing "more good money after bad" by spending more on nuclear weapons.
He added: "The Tories should be addressing the immediate threats facing the UK, and in doing so would be creating new jobs and delivering on their promises to Scotland."
Mr Hammond said: "The UK spends more on defence than any NATO member except the US.
"But over the last year we have had stark reminders of the scale, scope and complexity of the threats we face.
"I understand the immediate pressures our Armed Forces are facing.
"So I will today provide an additional £1billion to the MOD to cover the remainder of this year and next."