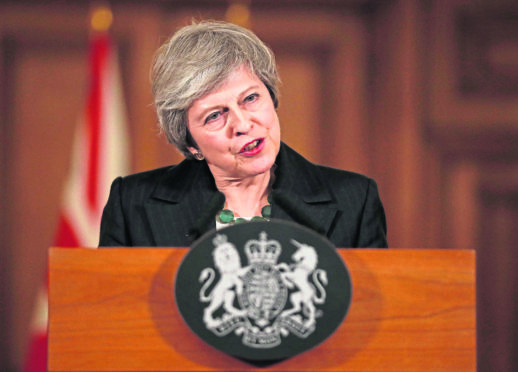 Harold Wilson famously said that a "week is a long time in politics" – and the week ahead certainly promises to be crammed with Brexit driven headlines and potentially defining for Theresa May.
The Prime Minister last week vowed to "see Brexit through", while at the same time floating the idea that there may also be "no Brexit at all" as she emerged from the five-hour cabinet meeting on Thursday afternoon.
And as European Council President Donald Tusk announced an extraordinary summit in Brussels on Sunday to finalise the UK's withdrawal agreement, Brexit minister Dominic Raab resigned.
Jacob Rees-Mogg confirmed he has penned a letter of no confidence in Theresa May to the chair of the 1922 committee of backbench Conservatives, Graham Brady.
Yesterday, speaking to the BBC's John Pienaar, Mr Brady said that he had not even told his wife about the number of letters received.
However, if a further 47 similar letters are delivered to Mr Brady, a secret ballot will be triggered that will challenge Theresa May's premiership.
If Mrs May wins then her detractors within the Tory ranks cannot challenge for another year.
But if she loses, there would be a leadership election, introducing even more turmoil into the already tumultuous Brexit process.
Steve Baker, another former Brexit minister, claims more than 50 MPs have submitted letters, making a contest likely.
Were that not enough of a harbinger of the chaos ahead, Mr Raab, Boris Johnson, Amber Rudd, Sajid Javid, Jeremy Hunt, David Davis and Penny Mordaunt are all, according to the Sunday Times, preparing their own leadership campaigns.
If a leadership battle is triggered, the process would see MPs vote on Tuesdays and Thursdays, with the lowest-ranked candidates dropping out each time until only two remain.
The final two candidates would then go to a full ballot of party membership – a process which can take several months but would likely be accelerated in the current circumstances.
Bookmakers were last night giving odds of 6-1 on Boris Johnson becoming the next Prime Minister, making him one of the favorite – alongside Dominic Raab.
A punt on David Cameron would give a 200-1 return, while George Osbourne getting into power has odds of 100-1.
Television presenter and former journalist Piers Morgan even appears on the list, at 500-1.