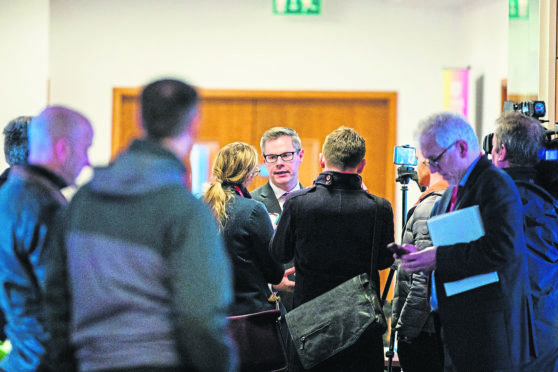 Aberdeen council leaders have accused Derek Mackay of delivering a "Scrooge"-like budget that has cut almost £60 million to one of the city's key funds for public services since 2016/17.
The Finance Secretary's financial settlement was condemned as the "worst possible" deal for Aberdeen as it emerged that the city has been allocated the lowest General Revenue Funding budget on mainland Scotland.
Aberdeen's general revenue fund, which is to be spent on public services, has fallen to £57.038m for 2019/20, a reduction of £59.503m on the £117.541m the council received in 2016/17.
Only Orkney (£56.977m) and Shetland (£52.671) received less than Aberdeen when it came to their General Revenue Funding budgets.
Highland Council also saw a cut General Revenue Funding from £308.652 in 2018/19 to £286.049m in 2019/20. In Moray the fund fell from £114.940m to £109.369 in the same period. Aberdeenshire saw its General Revenue Funding fall from £297.783 to £277.910.
Last night local councillors warned that budget cuts would affect jobs and public services.
Overall the Scottish Government figures suggested the Aberdeen City Council budget would be bolstered by around £20m which has been ring-fenced for specific projects plus £258.560m which is expected to be raised from business rates.
When those figures were added to the £57.038 General Revenue Funding cash, total revenue came to £335.935. Added to that was £36.645 capital funding for infrastructure projects, making a total of £372.580.
Mr Mackay has also signalled another council tax rise, suggesting that a 3% increase in the levy would raise a further £3.669m in Aberdeen.
Jenny Laing, the co-leader of Aberdeen City Council, said Mr Mackay was "acting like Ebenezer Scrooge as he is a miser when it comes to providing Aberdeen City Council with a fair settlement".
Ms Laing pointed out that Aberdeen's General Revenue Funding was way behind other Scottish cities with Dundee receiving £217m, Edinburgh £326m and Glasgow £826m.
---
>> Keep up to date with the latest news with The P&J newsletter
---
"We are having a really raw deal and this budget settlement is the absolute worst possible," Ms Laing said. "There is no incentive for us to grow the economy, because as soon as we grow the economy we get hit by a reduced general revenue fund. As a local authority it is becoming increasingly difficult for us to balance the books without impacting on front line services and jobs."
She added:  "We are the third largest city in Scotland and we have a revenue funding level that is now on a par with only Orkney and Shetland. Nobody can think that's fair and reasonable."
In the Highlands, councillors calculated they were having to deal with a 2.3% to 2.4% funding cut, which was higher than expected.
Highland Council depute leader Alasdair Christie said: "The draft budget indicates a severe cut to our day to day budgets and greatly increases the risks to the delivery of essential everyday services in the future year all this will have a very negative impact on the local economy and all residents.
"It is frustrating and disappointing to see a draft budget which, yet again, disinvests in Highland."
SNP group leader on Aberdeen City Council Stephen Flynn said accused the local authority's ruling administration of ignoring "tens of millions of pounds" of overspends and delays on its watch.
"Folk aren't daft," Mr Flynn said. "They know that this administration has a truly woeful record when it comes to meeting budget constraints and, as I've said many times before, I only wish they spent more time on getting their own house in order.
"On the wider budget settlement both the Labour Party and Tories have been challenged to state what they would cut to increase local government spending and, to date, the silence has been deafening."
Public Finance Minister Kate Forbes said: "It is misleading to quote the General Revenue Grant funding alone in this way as the Scottish Government guarantees each local authority the combined General Revenue Grant plus Non Domestic Rate Income. The true comparison shows that Aberdeen City Council's funding has increased over the last three years.
"We continue to ensure that our partners in local government receive a fair funding settlement despite further cuts to the Scottish Budget from the UK Government.
"Aberdeen City Council will receive over £372million to fund local services in 2019-20. Using their council tax powers could also generate an additional £3.7 million to support the delivery of essential local services, meaning an extra £15.9 million or 4.4% next year."