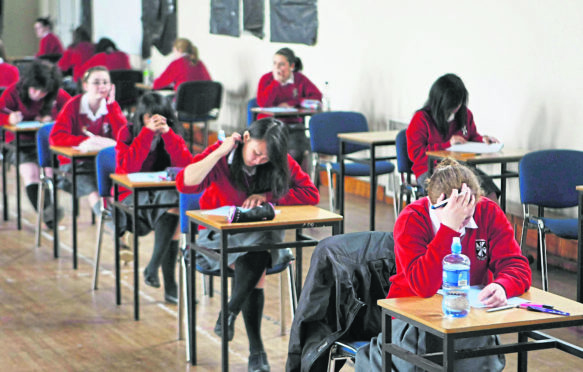 North and north-east pupils are "disadvantaged" compared with those in the Central Belt who are able to study a greater number of subjects, it has been claimed.
Analysis by education experts has showed that no state schools in the Highlands, Moray Aberdeenshire and Aberdeen City are offering secondary pupils the choice of eight subjects in S4.
The research was carried out by Keir Bloomer, the architect of the Scottish Government's Curriculum for Excellence, and Professor Jim Scott from Dundee University.
The Scottish Government has said the qualifications pupils leave with are what matters, not when during their school career they secure them.
Nonetheless, the range of subjects offered in north and north-east schools in S4 contrasts with several in Central Belt local authority areas where eight subjects are on offer.
Elsewhere in Scotland, the research found five schools in Glasgow offered eight subjects, eight schools in Edinburgh, six in East Renfrewshire, two in East Lothian and five in North Lanarkshire.
---
>> Keep up to date with the latest news with The P&J newsletter
---
The research, which was highlighted by the Scottish Tories, has been carried out amid concern that Scotland's curriculum is narrowing.
Submissions made to Holyrood's Education Committee by teachers suggest many schools have cut subject numbers from eight to either six or seven.
The reduction of choice has led to fears that not enough children are studying sciences or languages.
Yesterday, North-East Tory MSP Liam Kerr said: "These figures make clear that pupils in the north and north-east of Scotland are at a disadvantage purely on the basis of where they live.
"It makes little sense why state schools in Edinburgh and Glasgow can offer pupils up to eight subjects, but those in Aberdeen and Inverness cannot.
"This is part of a wider scandal in education under the watch of the SNP.
"The decline in subject choice is limiting for our young people, who need the widest possible education if they are to fulfil their potential.
"And research shows that those in deprived areas are likely to be the worst affected."
A Scottish Government spokesman said: "What matters is the qualifications and awards that pupils leave school with, and not only what they study in S4.
"Almost two-thirds now leave school in S6 and last year a record proportion went on to positive destinations including work, training or further study."
Councillor John Finlayson, chairman of Highland Council's Learning Committee, said there was "flexibility" in the system for pupils to do different subjects at different times over the senior phase of school.