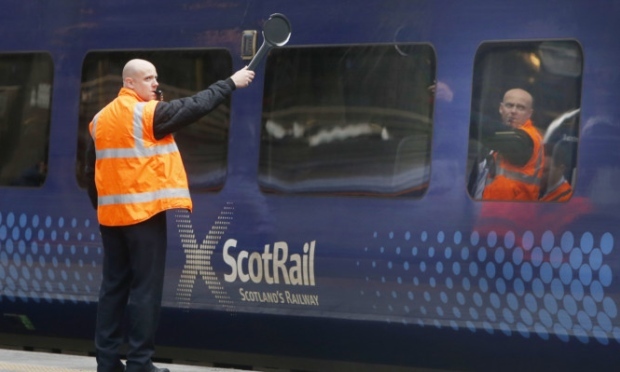 ScotRail has apologised to north-east rail passengers after staff shortages led to several Aberdeen trains being cancelled.
Commuters living south of the city faced "serious disruption" as a result of the cancellation of eight of the local trains, which are supposed to run almost hourly between Aberdeen and Montrose.
InterCity trains travelling between Glasgow, Edinburgh and Aberdeen were forced to make extra stops at Portlethen and Laurencekirk in an attempt to minimise the impact of the cancellations yesterday afternoon and evening.
Another local service, which was supposed to go to Stonehaven, was terminated at Aberdeen.
North East Tory MSP Liam Kerr warned north-east travellers were "fast losing patience" with ScotRail.
He said: "This will cause serious disruption for passengers in the north-east today.
"I will be writing to ScotRail to ask if these staffing issues only apply to the north-east – as many locally are beginning to suspect. ScotRail must address any staffing shortages as quickly as possible."
The company has faced widespread criticism for the frequency of delays and cancellations in the north and north-east.
Labour north east MSP Lewis Macdonald said: "There are lots of people from Montrose, Laurencekirk, Stonehaven and Portlethen who work in Aberdeen.
"They are being encouraged to take the train to reduce congestion in the city. But if they take the train on a Friday morning and they can't get home on a Friday afternoon that's not a good message."
An inability to get enough crew led to the cancellation of four trains heading out of Aberdeen to Montrose, via Portlethen, Stonehaven and Laurencekirk, at 1516, 1610, 1953 and 2115.
In the other direction, the 1649, 1806, 2050 and 2303 from Montrose to Aberdeen were cancelled.
During the afternoon, four InterCity trains linking Aberdeen with Edinburgh or Glasgow, which already stop at Stonehaven, made an extra stop at either Portlethen or Lawrencekirk.
Staff shortages also led to the 1737 Dyce to Stonehaven train, via Aberdeen and Portlethen, having to stop at Aberdeen. Passengers seeking to get to Stonehaven were advised to the LNER's 1818 service from the city.
Those wanting to travel on to Portlethen were told to ask station staff to organise alternative transport.
A train fault led to the cancellation of the 0802 service from Wick to Inverness.
A ScotRail spokesperson said: "We're sorry to our customers who've been disrupted by these cancellations. Anyone delayed by 30 minutes or more can claim money back through the Delay Repay Guarantee on our website or mobile app."