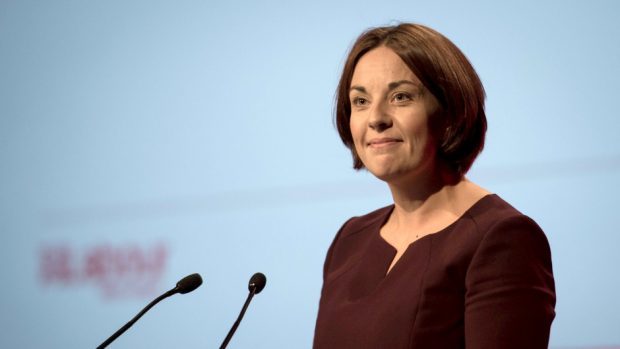 Kezia Dugdale yesterday revealed she is "sore" over her deteriorating relationship with her father Jeff, the former depute rector of Elgin High.
The former Scottish Labour leader said she was estranged from her father because of his attitude towards the nationalist blogger she had a high-profile legal battle with.
Speaking on BBC Radio Scotland's Mornings with Kaye Adams show,  Ms Dugdale said at her worst moments she feared she would lose £200,000 when she was sued by Stuart Campbell of the Wings Over Scotland website.
Mr Dugdale, who worked at the Moray School for 30-years, has been a vocal supporter of Scottish independence on social media.
But it was the retired teacher "chatting" to the blogger online that Ms Dugdale said she "could not get over".
"That was the end of us having a sort of relationship where we could talk to each other and share general chit-chat and news,"  Ms Dugdale said.
"It is too hard, because of the consequences.
"I don't want to overplay this, but there were times when I was in a really dark place; where I thought I was on the cusp of losing everything.
"How rational that is, is irrelevant, that is how I felt, and my Dad is chatting to him to him on the internet.
"I really struggled with that. I think most people would."
Asked if her father had taken on board how desperate she was feeling during the court case, the Labour MSP said:  "I have no idea, because I have not been speaking to him.
"I haven't spoken to him for at least a year."
"This case brought all that to a close.
"It is very sad.  Who wants to be estranged from one of their parents?
"But sometimes you just hit a limit. It is no longer okay. You can't pretend it is okay and the best thing to do is just to try and move on and not think about it- not contemplate it.
"It is too sore."
Ms Dugdale was sued by Mr Campbell after she accused him of writing "homophobic" tweets.
Earlier this year, Sheriff Nigel Ross found Mr Campbell did not hold homophobic views, but ruled Ms Dugdale's comments were "protected under the privilege of fair comment" and she would not have to pay a penalty.
Yesterday Mr Dugdale said: "I'm sorry this is a private matter. I don't wish to discuss it."