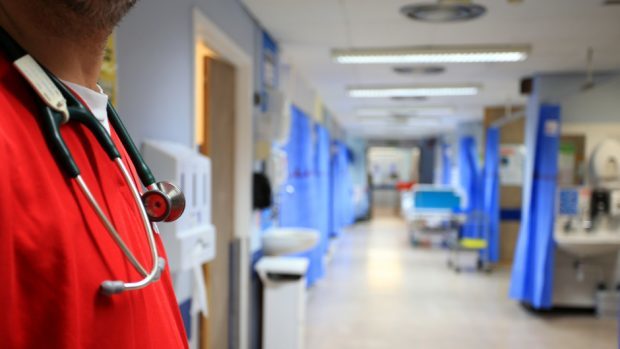 North and north-east cancer patients face some of the longest waiting times in Scotland when it comes to meeting a key treatment target for urgent cases.
About a quarter of patients in NHS Grampian, NHS Highland and NHS Western Isles are missing the 62-day target from referral when there is a suspicion of cancer to treatment.
Highland had the worst rate in the country when it came to the target with only 74.8% of patients meeting it.
But the Western Isles was not far behind with 75.8% and, in Grampian, only 76.4% were seen on time.
All three health boards performed more poorly than the Scottish average of 81.4%, which itself was the joint-lowest figure on record for achieving the target of treating 95% of urgent referrals within 62 days.
Opposition politicians described the record as "appalling" as health secretary Jeane Freeman came under pressure over her stewardship of the NHS.
The Cancer Waiting Times in NHS Scotland report said NHS Grampian still had "significant" nursing vacancies, which had an impact on patients' access to operating theatres.
There were also "longstanding issues" in Grampian with the availability of consultant pathologists, breast surgeons and breast radiologists.
North East MSP Mike Rumbles said: "Healthcare standards are under threat and Scottish Government ministers still refuse to lift a finger to rectify the situation.
"Whether it is sheer incompetence or a lack of political will, Scottish Government under-funding has put our local healthcare services under immense pressure and it is the patients and hardworking staff that are paying the price."
The Scottish Conservatives said the "abysmal" findings had contributed to a "a year of failure" for Ms Freeman, who took office exactly 12 months ago.
Highlands and Islands Tory MSP Donald Cameron said cancer waits in his area were "appalling" and urged ministers to "raise their game".
"More than a quarter of cancer patients in the NHS Highland area are having to wait longer than 62 days to receive the treatment they need, which is the worst figure in Scotland," Mr Cameron said.
"Nicola Sturgeon's government has failed to deliver on a key promise in terms of the health service in the Highlands."
NHS Highland and NHS Grampian also failed to meet the standard that says 95% of patients should wait no more than 31 days from the decision to treat to first cancer treatment.
In Highland 93.2% of patients achieved the 31 day target. The figure for Grampian was 92.8%, the second lowest in Scotland after NHS Tayside.
A spokesman for NHS Grampian said: "We acknowledge our performance against the 62 day target is not what we or our patients would like it to be. We continue to face recruitment challenges within nursing, radiology and pathology. The good news is that our performance has improved in both April and May.
"Our performance against the 31 day target – which measures the time between decision to treat and the first treatment – is improving. However, there are still individual areas which require improvement and we are working hard to manage this."
The spokesman added:  "It must be said that our staff are working extremely hard undertaking additional clinics and diagnostic sessions and we are very grateful for their efforts."
Ms Freeman said the number of patients being treating within the targets had increased across Scotland since last year.
But she said: "However, these figures show that some patients are continuing to wait too long from urgent suspicion of cancer referral to treatment. I have been clear with health boards that cancer patients must be prioritised."
She added the Scottish Government's £6million endoscopy action plan aimed for patients being seen within six weeks for tests with the most urgent cases seen in two to three weeks.
A NHS Highland spokesman said the health board was aware that its cancer standards performance was "particularly challenging".
He added the board was working to reduce delays and to recruit non-consultant staff. But he warned: "It will be a number of months before we will be able to report upon a sustainable improvement given that in many areas our challenges are due to an inability to recruit to key posts, which is an issue that is felt nationally."