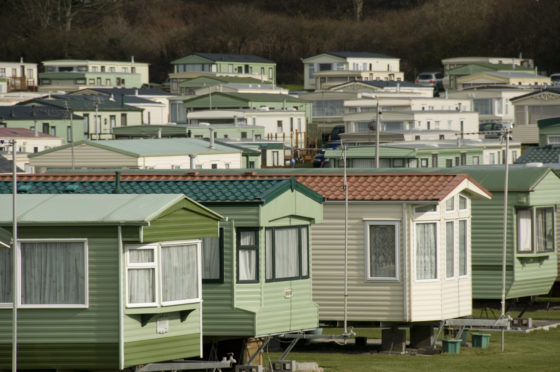 This column comes to you from a static caravan near Pitlochry. Freed from reporting duties in the Scottish Parliament for a family staycaytion, this is escapism on a grand scale.
At the Tummel Valley holiday park there is an indoor swimming pool, crazy golf and licensed bar. It's as close to heaven as I'll get.
What's more, there could be an outside chance of meeting Bob Servant, the famous Broughty Ferry burger impresario, BBC4 TV star and author.
As the forty-odd thousand followers of his Twitter account know, Mr Servant is the proud owner of a "static" in Pitlochry and I can't help wondering if it is in this resort.
A glimpse of Mr Servant's moustachioed coupon lurking along the nature trail or in the launderette washing his smalls would be the cat's pyjamas.
But even if we don't bump into him, Mr Servant has already unwittingly had a profound impact on this holiday.
Any thoughts that a week cooped up with two poorly behaved toddlers might prove less than restful were more than assuaged by Mr Servant's upbeat tweets.
"Off to Pitlochry for a few weeks at the static. The spirit of adventure, the wind in your hair. Nothing says `freedom' like a static caravan," was one of the ways Mr Servant put it.
And so it has proved.  The first few days in the static have been entirely liberating (provided one overlooks the screaming children, the incessant Peppa Pig pleas and the dirty nappies).
During one family discussion which concluded that we weren't quite ready for the Killiecrankie Highland Fling bungee jumping experience, it occurred to me just how pleasant it is to get away from it all. Everyone needs a wee break, now and again.
That even applies to the politicians who have disappeared on their two-month summer recess. It appears also to apply to the Brexit process, which has been in abeyance since Theresa May bowed to the inevitable and stepped down – unable to get her deal through parliament, despite repeated and futile attempts to do so.
Stepping into the void caused by the `Brexit break' has been the sort of double act that wouldn't look out of place at a caravan park cabaret evening.
The Jeremy Hunt and Boris Johnson show would be the source of much innocent amusement, if things weren't quite so serious.
Touring the Conservative clubs of the UK, Hunt has been the straight man whereas bumbling Boris has provided the comic turn.
Their riffing on how they'll talk tough on a no-deal Brexit , do all they can to protect the Union etc, etc  has offered some relief from Brexit stalemate.
The trouble is that once the Brexit break is over, very little will have changed. Whoever gets to Number 10 by winning over a piffling electorate of Tory members will face the same problems as Mrs May did.
Barring a collapse of Devon Loch proportions, the victor will be Mr Johnson and it will fall to him to translate his Brexit rhetoric into action.
That should prove interesting given that the arithmetic in the House of Commons is still unchanged and politicians in the two main parties are still split over Brexit. Jeremy Corbyn is coming under increased pressure to support a second Brexit referendum, not a helpful position for a prime minister whose pitch to the Tories has been based on his pledge to take the UK out of Europe come what may.
Given Eurosceptic opposition to the backstop, the Irish border conundrum looks as tricky as ever. Both candidates have been speaking about "alternative arrangements" to remove the backstop or ensure it is never used. But sorting that out by the Hallowe'en withdrawal date is a massive, if not impossible, task. So maintaining a soft Irish border without regulatory alignment between the UK and EU is as elusive as ever.
Perhaps most problematic of all for Mr Johnson when he moves into Downing Street and attempts to reopen Brexit talks  is the apparent intransigence of the EU. Its chief negotiator Michel Barnier has repeatedly warned Mrs May's deal is the only one in town.
Meanwhile north of the border Nicola Sturgeon's response to the impasse has been to create a Citizen's Assembly to discuss the big issues of the moment, including Scottish independence and EU withdrawal.
Unsurprisingly this has met with a hefty dose of cynicism from those who object to politicians attempting to foist problems that 129 MSPs are paid very good money to deal with on to 120 unsuspecting, ordinary members of the public.
Furthermore, Unionist suspicions that the Assembly idea is little more than a front for a talking shop to break up the UK have only been fuelled by the SNP MP Joanna Cherry's suggestion that it was the "perfect way" to advance independence.
The Tories and Lib Dems say they will have nothing to do with the Assembly – another sign that no real political progress has been made during the Brexit break.
There will be a new Prime Minister shortly, but the sad truth is that other than that things remain as static as this caravan.