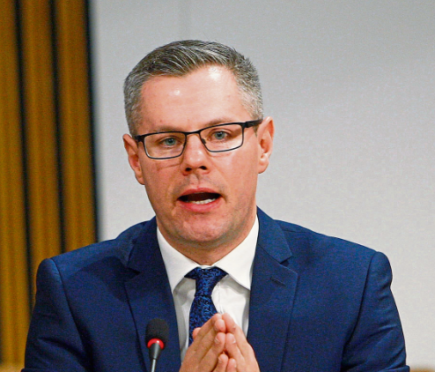 Finance Secretary Derek Mackay is considering nationalising the Ferguson shipyard, amid rising concern over the multi-million pound increase of two new west coast ferries.
A dispute about the delays and soaring construction costs of the vessels destined for Calmac services in the Hebrides and Arran have led to the Scottish Government drawing up the controversial plans.
Next week, Fergusons and Scottish Government representatives will hold private talks about the future of the Clyde yard, where ferries to serve the Skye to Harris and Ardrossan to Brodick routes are being built.
Mr Mackay is handling the talks, taking them out of the hands of Caledonian Maritime Assets Ltd (CMAL), the government-owned firm that owns CalMac's fleet.
Yesterday, a Scottish Government source said ministers were looking to "secure the future" of a strategically important business. But opposition politicians accused the SNP of wanting to "control everything in Scotland at the taxpayer's expense".
In 2014, the yard was saved from collapse by Clyde Blowers tycoon Jim McColl just days before the Scottish independence referendum in a deal partly brokered by former first minister Alex Salmond.
Since then, Ferguson Marine Engineering Ltd (FMEL), which employs 350 workers at the yard, has received £45m in Scottish Government loans in the last five years.
Next week's negotiations will focus on the cost of building the two ferries for Calmac, which were supposed to be constructed under a fixed price contract of £97m.
The cost, however, has almost doubled and the Scottish Government's position is that Clyde Blowers and Fergusons should pay the extra £90m.
BBC reports claimed yesterday that if the two parties cannot come to an agreement, Fergusons could become insolvent with the Scottish Government taking on the assets in lieu of the £45m loans. Another option could be the parties coming to an agreed price.
But Tory finance spokesman Murdo Fraser claimed taxpayers were facing the consequences of the deal brokered by Mr Salmond for "political gain".
He said: "Nationalising the yard isn't the answer and it won't help Ferguson as it seeks to bid for new contracts. However, it appears the SNP's desire to control everything in Scotland – at the taxpayer's expense – trumps common sense."
A Scottish Government spokesman insisted it was working to support the yard, complete the vessels and ensure the future of shipbuilding at the yard.
A Fergusons spokesman said the firm was working with the government to secure the yard's future.