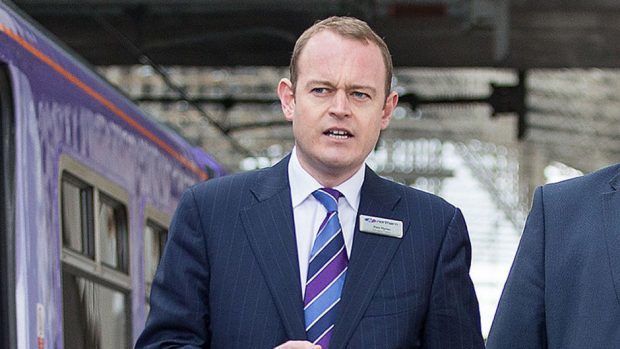 Scotland's rail boss Alex Hynes has said the old line linking Peterhead to Aberdeen should be re-opened as part of his "mission" for better public transport.
Mr Hynes backed campaigners who are fighting for the resurrection of the Buchan and Formartine railway, which was shut in the 1960s.
Speaking to the Press and Journal, Mr Hynes, managing director of ScotRail and Network Rail Scotland, said he would "love to see line re-openings in the north-east of Scotland".
Mr Hynes said the decision on whether the line should be re-opened was down to ministers but indicated the Peterhead line should be on the agenda.
Previously, it has been estimated that re-opening the line as far as Ellon would cost £380 million.
"If we want to create a bigger and better railway for Scotland, which is basically our mission, in some cases line re-openings have their part to play," Mr Hynes said.
When asked which lines in particular, he answered "Peterhead".
He added: "I am aware of campaigns in the north east to re-open the Peterhead branch.
"That is a matter for Scottish Government. But I am a railway person and I would love to see more railways."
His remarks were welcomed by Councillor Paul Johnston, leader of Aberdeenshire Council's Democratic Independent and Green Group.
"This is a significant intervention," said Cllr Johnston. "It would provide an alternative to commuters from places like Ellon into the city and would also take freight."
Mr Hynes was speaking as he came under fire from MSPs on Holyrood's Rural Economy committee, who claimed ScotRail was set to default on its franchise by missing performance targets.
He criticised train contractors Webtec whose work to refurbish 26 high speed trains has been delayed.
Mr Hynes claimed they were to blame for north and north-east rail improvements failing behind schedule.
ScotRail franchise operator Abellio signed a contract for the work with Angel Trains, who let the refurbishment contracts for the 125 mph trains to Doncaster-based Wabtec.
Despite an original deadline of May last year for the introduction of the new fleet, just seven trains have arrived.
The new trains would link Aberdeen and Inverness with Scotland's other five cities.
They would also free up diesel trains in the Central Belt, which would be reallocated to local services to Montrose and Inverurie.
"It's fair to say Wabtec's performance on that contract has been woeful," Mr Hynes said.
An Angel Trains spokeswoman apologised for the delay.
Mr Hynes also indicated that plans to dual the East Coast line at Montrose had been kicked into the long grass.
He said studies had indicated the £200 million earmarked for improving journey times would be better spent on improving signalling.
On re-opening the Peterhead line, a Transport Scotland spokesman said funding of transport infrastructure would be informed by its  second Strategic Transport Projects Review.