Legislation designed to prevent a no-deal Brexit on October 31 has cleared the Commons and is expected to appear before the Lords after MPs gave it a third reading by 327 votes to 299, majority 28.
Prime Minister Boris Johnson has said "there must now be an election on Tuesday October 15" after legislation designed to prevent a no-deal Brexit cleared the Commons.
Mr Johnson told the Commons: "The country must now decide whether the Leader of the Opposition, or I, go to those negotiations in Brussels on the 17th October to sort this out.
"Because everybody will know that if (Mr Corbyn) were to be the prime minister he would beg for an extension, he would accept whatever Brussels demands and we would then have years more dither and delay, yet more arguments over Brexit and no resolution to the uncertainty that currently bedevils this country and our economy."
The PM said an election "must now" be held on October 15 after the legislation designed to prevent a no-deal cleared the Commons.
Mr Johnson told MPs: "I think it's very sad that MPs have voted like this, I do, I think it's a great dereliction of their democratic duty.
"But if I'm still Prime Minister after Tuesday October 15 then we will leave on October 31 with, I hope, a much better deal."
Labour former minister Hilary Benn who introduced the Bill applauded the "bravery and the courage" of MPs on the Government benches who had supported the Bill.
He said they "stood by their convictions in the national interest".
The PM put pressure on Jeremy Corbyn to get Labour to back a vote for an early general election.
Mr Johnson said: "He has demanded an election for two years while blocking Brexit.
"He said only two days ago that he would support an election and now Parliament, having passed a Bill that destroys the ability of Government to negotiate, is he now going to say that the public can't be allowed an election to decide which of us sorts out this mess?
The PM continued: "I don't want an election, the public don't want an election, the country doesn't want an election, but this House has left no other option than letting the public decide who they want as Prime Minister."
Labour leader Jeremy Corbyn has said the European Union (Withdrawal) (No. 6) Bill must be passed through the Lords and have received Royal Assent before he will entertain the thought of a general election.
He said: "Let the Bill pass and have Royal Assent and then we can have a general election."
Mr Corbyn likened Mr Johnson's offer of a general election on Tuesday October 15 to "the offer of a poisoned apple to Snow White by a wicked queen".
He added: "The Prime Minister says he has a strategy but he can't say what it is and can't tell the EU either – the truth is that there really is nothing there."
The Labour leader said: "The referendum carried no mandate for no-deal and no-deal is opposed by the public and this House."
Mr Corbyn continued: "We want an election as we look forward to turfing this Government out."
Mr Corbyn called the Government efforts: "An undemocratic cabal in Downing Street aligned with an undemocratic and unelected House to override the democratic will of this House expressed in the Bill that we have just given a third reading to."
He added: "If they can't win the argument they try to shut down debate. We had the Prime Minister deciding to prorogue Parliament in August and today he wants to dissolve Parliament to shut down scrutiny.
"He cannot handle dissent and debate in his own party and has extraordinarily expelled 21 of his own MPs who voted against him last night.
"The hypocrisy of this process is phenomenal, from a Prime Minister who twice voted against the last prime minister's Brexit plans.
"A general election isn't a play thing for a prime minister to avoid his obligations, to dodge scrutiny or renege on commitments. He has committed to renegotiate Brexit, but where is it?  Where is the plan, where are the proposals?"
Former Conservative chancellor Ken Clarke said: "I do think the Prime Minister, with the greatest respect, has a tremendous skill in keeping a straight face while he's being so disingenuous."
The independent MP added: "He's now desperate to have an election in order to bring this House's proceedings to an end and have the general election clearly before October 31.
"He's obviously going to campaign before that on the basis that he's been thwarted in getting an amazing beneficial deal for this country, which is actually being blocked by wicked continental politicians and by MPs in the House of Commons who have no sense of the true national interest – which is to keep him in power."
Mr Clarke said it is wrong to say opponents of the PM are trying to reverse Brexit, adding they have voted for it more often than Mr Johnson.
He added: "He is now Prime Minister, he is now a responsible politician with huge responsibility. I urge him one last time to stop treating all this as a game and to use the time to actually get a serious resolution of these impossible problems to look after the future goodwill of this country."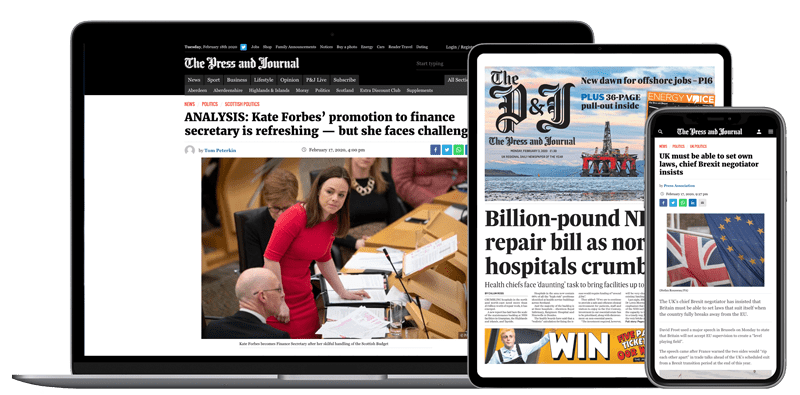 Help support quality local journalism … become a digital subscriber to The Press and Journal
For as little as £5.99 a month you can access all of our content, including Premium articles.
Subscribe