Scottish politicians last night rejected a no-deal Brexit in a symbolic Holyrood vote.
Only the Conservatives failed to support a Scottish Government motion calling for a no-deal exit from the EU to be rejected "under all circumstances".
Constitutional Relations Secretary, Mike Russell tabled the debate and called for the Scottish Parliament to "urge the Prime Minister to pull back from the brink of inflicting major damage on our country, our prospects and our reputation".
The Nationalist described Mr Johnson's attempts to force through a no-deal Brexit by proroguing the Westminster parliament as "shabby sleight of hand in order to silence any opposition".
He added: "Brexit will make the people of Scotland poorer and cut this country off from the European mainstream, and the SNP will never vote for that.
"The deal negotiated by the previous prime minister would have taken Scotland and the UK out of the customs union and the single market.
"That dreadful outcome doesn't become tolerable just because another prime minister is threatening us with something even worse."
Mr Russell also praised the "overwhelmingly positive contribution" EU nationals made to the country.
A Tory motion calling for the EU referendum result to be respected, and arguing that a "negotiated exit" was "the best way" of leaving Europe, was defeated.
Highlands Conservative MSP, Donald Cameron, said there "is still a good chance that a deal will be struck".
Mr Cameron, the party's newly appointed Europe spokesman, admitted his personal view was that a no-deal Brexit "should be avoided, given the effects that it would have".
But he added that the Scottish Parliament should support the Prime Minister in getting a deal.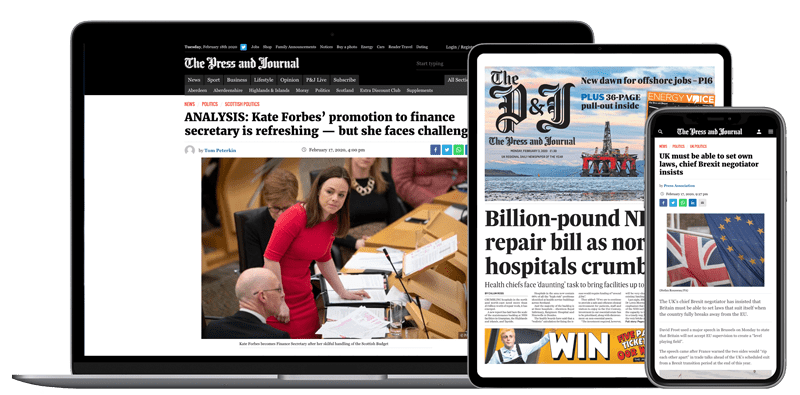 Help support quality local journalism … become a digital subscriber to The Press and Journal
For as little as £5.99 a month you can access all of our content, including Premium articles.
Subscribe