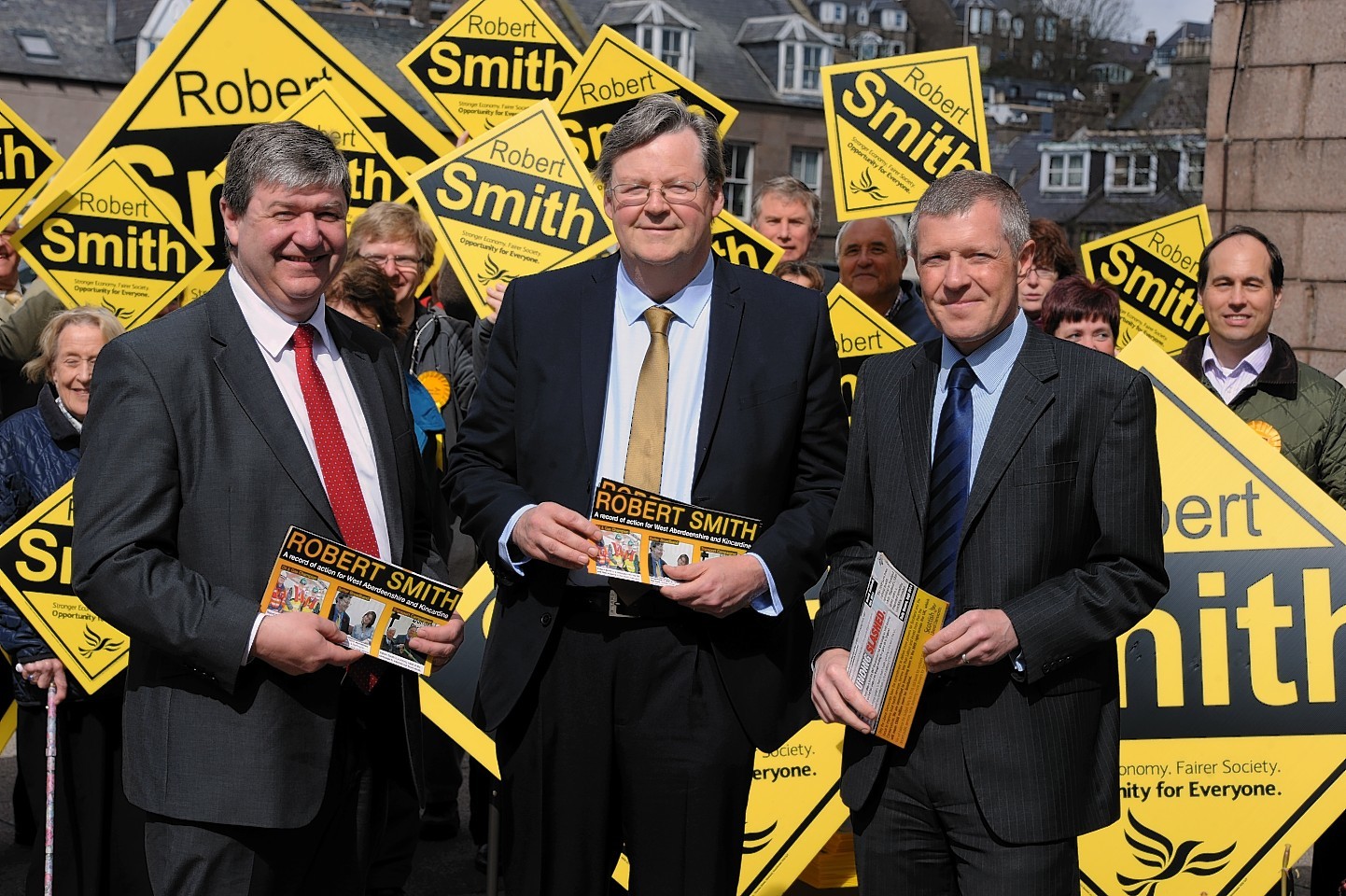 Scottish Liberal Democrat leader Willie Rennie believes his party has a "great chance" of holding onto all 11 of its seats north of the border as Thursday looms.
With the final push to election day underway, Mr Rennie was campaigning in Stonehaven with West Aberdeenshire and Kincardine candidate Sir Robert Smith and Secretary of State for Scotland Alistair Carmichael.
Mr Rennie said that with a quarter of the electorate still undecided as to how they would vote, there were still opportunities to convince voters about his party's important message for the future.
He added: "That message is quite simple.
"In the 11 seats that we hold in Scotland it is a straight choice between us and the SNP.
"If you want to avoid another referendum, if you want economic recovery and brilliant, outstanding local candidates, then the Liberal Democrats are the best choice for you.
"The SNP has made it absolutely clear now that they are going to Westminster to, with their traps and tricks, generate grudge and grevious so that they can call another referendum on independence.
"We need to move on and focus on the big issues the country faces including investing in education and the NHS, particularly mental health, keeping the economy on track, balancing the books, cutting taxes and protecting the environment.
"These are the big issues.
"The last thing we need is another referendum and that is why we want everyone from all political persuasions to rally behind the Liberal Democrat campaign to thwart the next referendum before it happens."
Mr Carmichael added: "We have 11 of the best local champions in Scotland.
"I think the question people want to ask themselves is who will bring stability and unity to the country.
"What the Liberal Democrats offer is exactly that whereas the SNP are pitching determinately to get a second referendum.
"They are not interested in stability and unity, there are interested in generating instability and division."
Sir Robert, who has represented the north-east at Westminster for the past 18 years, said: "I think people are concerned about the future of jobs in the oil and gas industry and we want to try and protect jobs.
"I think it is important to stand up for the north-east and both Edinburgh and London have to realise just how much wealth is generated here for the UK economy and to invest in the roads and infrastructure."