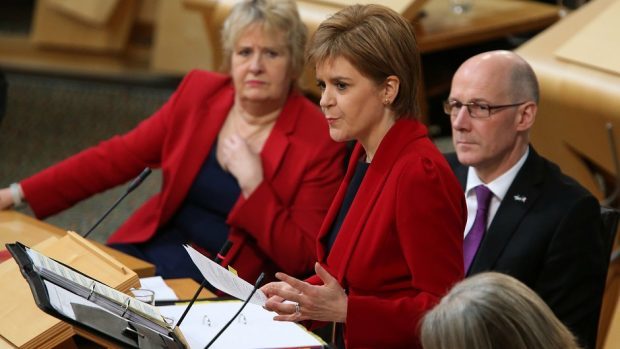 First Minister Nicola Sturgeon has urged the UK Government to reverse its "disgraceful" decision to axe £1billion of funding for carbon capture and storage projects.
Plans for a groundbreaking scheme at Peterhead Power Station lay in tatters last night as it emerged the "tight financial settlement" was to blame for the decision to pull the plug on a competition for the money.
Shell has said that without the financial support there is no future for the plant at the Buchan port.
UK Government sources insisted it had been made clear the capital was "subject to affordability", stressing the decision was "not taken lightly".
They also confirmed "difficult decisions" had to be made in the "tight financial settlement".
But the SNP leader branded the move – announced on the Stock Exchange – "utter folly, unfair to business and downright wrong".
Ms Sturgeon also criticised the fact the Scottish Government had not been consulted prior to it.
She was responding in First Minister's Questions at Holyrood to Banffshire and Buchan Coast MSP Stewart Stevenson.
Ms Sturgeon said: "It's a shocking example of how the Conservative UK Government is treating businesses.
"We have two FTSE 100 companies entering a £1billion capital funding competition in good faith, committing resources, time and money towards a bid that was due at the end of this year – only to be told at the very last minute that the money is no longer available.
"The chancellor actually neglected to mention this in his autumn statement and we were only told afterwards."
Scottish Energy Minister Fergus Ewing described the decision as a "hammer blow" to Scotland's energy generation.
And Sarah Boyack, Scottish Labour's spokeswoman on environmental justice, said Tory cuts to renewables were threatening Scottish jobs and businesses.
She added: "Without funding to support this world-first innovation, Scotland won't be able get ahead and become leaders in making this globally important technology commercially viable."
But Scottish Green MSP Patrick Harvie said that rather than seeking to revive the plans, the Scottish Government should "seize the opportunity" to put new funds into low carbon infrastructure.
It is understood the news came as a "bolt out of the blue" to SSE, which described the announcement as "disappointing".
But in a statement, it added: "It is clear that the UK Government sees a major role for gas-fired power stations in the future.
"In Peterhead – and Keadby, Medway, Seabank and Marchwood – SSE has an ownership interest in some of the most important gas-fired power stations in the country.
"We'll be working hard to maximise the opportunities for them – and our other generation plant – in the future."
Local businesses also reacted with anger and expressed hope the project could be saved.
Terry Moran, who runs the Albert Hotel in Peterhead's Queen Street, said: "It was a world first and I don't understand why it failed, particularly when Shell and SSE have invested so much in it already.
"I'd like to think someone will still find a way of driving it because it has to happen somewhere."
Tommy Jackson, a director at the Buchan Braes in nearby Boddam – where the infrastructure for the project would have been based – said people had hoped it would bring a lot of prosperity to the area.
He added: "I just think it's a shame. It was a project that possibly had longevity in being able to sell the technology once it was refined and developed to other countries."
A Department for Energy and Climate Change spokesman said: "The government has confirmed that the expected capital grant funding for the carbon capture storage competition is no longer available.
"CCS has a potential role in the long-term decarbonisation of the UK and the government will engage closely with bidders on the implication of this decision for them."