Labour will today lead a Commons debate on the "blame game" negotiations over the funding deal underpinning the devolution of further powers to Scotland.
The Scotland Bill – agreed in the wake of the post-independence referendum Smith Commission – will transfer new responsibilities for tax and welfare from Westminster to Holyrood.
But the crucial financial arrangement setting out how Scotland's annual block grant from the Treasury will be adjusted to take account of the new powers remains undecided.
And yesterday – after the eighth round of talks – the UK and Scottish Governments appeared no closer to doing a deal.
In the debate, Labour will urge the administrations to reach an agreement and ditch their "arbitrary" deadline of February 12.
Shadow Scottish secretary Ian Murray will say both governments must stay at the negotiating table until a deal is done as the powers are too important to walk away from.
He will also repeat his call for greater transparency around the behind-closed-doors talks.
Ahead of the debate, Scotland's only Labour MP said: "We need a deal that is fair for Scotland, and a deal must be done.
"People across Scotland want politicians to do their job and find an agreement that works so that we can get on with using these powers.
"Neither the UK nor Scottish Government negotiators should walk away until we have the new powers secured.
"Over the past few days we have seen the negotiations descend into a blame game. People across Scotland will not understand that after the negotiation for more powers, this deal could fall apart at the last minute."
On Monday, Scottish Finance Secretary John Swinney, who was in London for talks with Chief Treasury Secretary Greg Hands, insisted there was still "considerable distance to travel", but added he was "committed" to giving as much time as necessary to resolving the issues.
The SNP says the mid-February deadline is to allow proper parliamentary scrutiny and accountability.
First Minister Nicola Sturgeon has warned that Scotland stands to lose billions of pounds over the next few years under the Treasury's proposals.
A UK Government spokesman said this week's discussions showed its willingness to listen to the Scottish Government's concerns.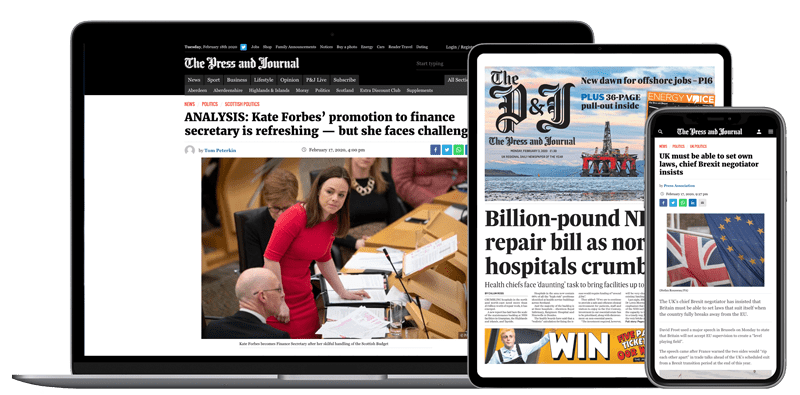 Help support quality local journalism … become a digital subscriber to The Press and Journal
For as little as £5.99 a month you can access all of our content, including Premium articles.
Subscribe