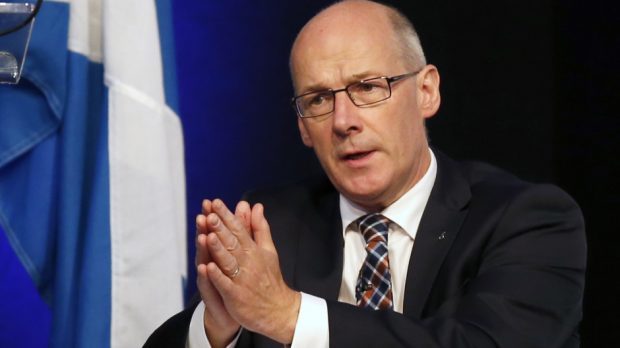 Opposition parties are preparing for a full frontal assault against the Scottish Government's named person scheme today.
Education Secretary John Swinney will update MSPs on the progress of the scheme, which has been delayed after the Supreme Court ruled elements of it were unlawful.
Officials are now redrafting parts of the legislation, which had been due to roll out at the end of August.
But opposition politicians are hoping to use today's statement to gain concessions from ministers – or have the scheme scrapped completely.
Scottish Labour is calling for 16 to 18 year olds to be excused from the state guardian legislation, while the Tories are demanding it be ditched completely.
The Scottish Government said ministers remain "absolutely committed" to the scheme.
But Labour's education spokesman Iain Gray said: "John Swinney should commit today to removing 16 to 18 year olds from the named person scheme.
"It is absurd that people the law says are old enough to vote, marry, and work are told by the SNP that they need a named person.
"The SNP Government has effectively been forced to pause this legislation.
"The SNP should use that pause to make the changes needed to win back the public confidence that has been lost by the mess they have made of implementing the scheme."
Scottish Conservative shadow education secretary Liz Smith called on the Scottish Government to explain whether local authorities already piloting the scheme – including Highland Council – had acted lawfully and what legal advice they had received about it.
She added: "We have said from the outset that named person must be scrapped, and we will repeat that to the education secretary as part of this debate.
"It's what parents, teachers and other professionals want.
"In addition, the Scottish Government has a lot of explaining to do about why it has found itself in this situation."
A spokeswoman for the Scottish Government said: "Ministers remain absolutely committed to the named person service and the deputy first minister will give a statement to Parliament outlining how the government is working towards the implementation of the service.
"We will engage with key partners across public services, the third sector, parliament and the wider public throughout the process as we make the necessary changes to the legislation."