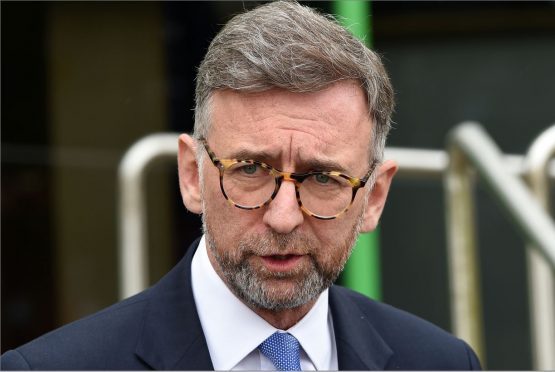 The UK Government has launched a thinly-veiled attack on its Scottish counterparts' plans to centralise the Highlands and Islands Enterprise (HIE) board.
In a significant intervention, Scotland Office Minister Lord Dunlop said he believes "communities are best placed to take the decisions that influence their area".
The decision by the Tory peer to wade into the row comes just days after Economy Secretary Keith Brown was accused of pushing through the controversial changes despite having "no evidence".
Lord Dunlop, who is visiting Inverness today, was instrumental in the creation of Scottish Enterprise during his time as an advisor to the late Prime Minister Margaret Thatcher.
The SNP administration sparked a backlash earlier this month after confirming they plan to scrap the HIE board – a move critics argue would see it lose powers to the central belt.
Opposition parties from across the political spectrum in Holyrood have backed the Press and Journal's Keep HIE Local campaign in the wake of the Scottish Government's announcement.
Lord Dunlop, who is hosting a roundtable discussion with HIE today, stopped short of backing the campaign itself, saying "the specific details around this issue are a matter for the Scottish Government".
But he added: "In our eyes, real devolution doesn't just mean calling for more powers from Westminster – it should extend from Westminster to all areas of Scotland, not just as far as Holyrood.
"The UK Government supports local devolution because we believe that communities are best placed to take the decisions that influence their area."
The intervention came as the controversial plans to subsume the HIE board were once again raised at Holyrood, with
Economy Secretary Mr Brown telling MSPs HIE could have "more authority and powers" after the changes were implemented.
But Shetland MSP Tavish Scott, who had earlier claimed there was "no evidence" behind the move to scrap the board, said: "The cabinet secretary's claim that HIE could end up with more authority and powers, despite plans to strip the agency of its decision making board, is utter nonsense.
"He should be listening to the businesses and communities I represent who have no faith in his plans."
Highlands and Islands MSP Rhoda Grant added: "To claim that HIE would have more authority and powers after taking away its main policy making body beggars belief."
A Scottish Government spokeswoman said: "We agree that devolution should mean empowering local communities, which is why HIE will continue to be locally based, managed and directed providing dedicated support to the Highlands and Islands economy.
"The plans we are putting forward are about improving the services HIE is able to offer and giving businesses and individuals in the region additional access and support from national services."