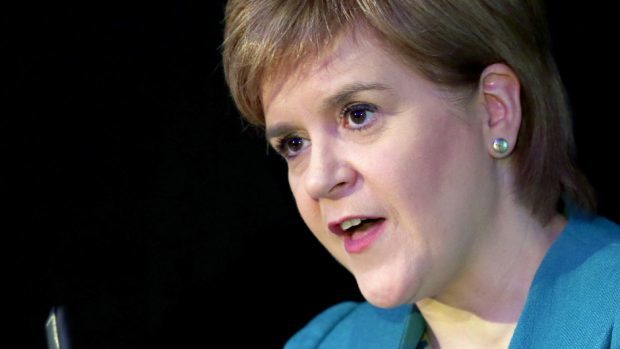 Scottish civil servants have been warned the SNP could demand a second independence referendum within weeks.
Sources close to the top of the non-political arm of the Scottish Government say they have received notice that Nicola Sturgeon is considering pushing for a Section 30 order, which is needed to make any constitutional vote legal, sooner rather than later.
The SNP administration last night confirmed the option of another plebiscite was "very much on the table," although it is understood no explicit work has been handed out to staff.
Conservative constitution spokesman Adam Tomkins said: "The people of Scotland don't want another independence referendum. It really is as simple as that. The decision was made decisively in 2014, and doesn't need to be revisited. Nicola Sturgeon should be true to her own word and acknowledge that the polls don't support a separation re-run."
The latest twist comes after the Press and Journal was revealed Downing Street is preparing for Ms Sturgeon to request a second referendum is held next August.
Theresa May's team is "war gaming" as speculation intensifies that the SNP leader will announce her intention to return to the polls at her party's conference next month.
Ms Sturgeon has said another referendum is increasingly likely in the wake of the Brexit vote, but she would need UK Government permission for a second legally binding vote.
Asked about the P&J's story following Prime Minister's Questions yesterday, her spokesman said: "We don't believe there should be a second referendum.
"There was a referendum in 2014. It was decisive, clear and legal. Both sides agreed they would abide by the result."
A senior Labour insider said: "Voters will despair to hear that our two nationalist governments are preparing the groundwork for a second independence referendum.
"Civil servants both in Whitehall and Edinburgh should be tasked with closing the education attainment gap and tackling the crisis in our health service, rather than being ordered by nationalist politicians to focus on the constitution."
A Scottish Government source said: "We remain engaged in a serious effort to protect Scotland's place in the single market through the compromise proposals we have put on the table. It is up to the UK Government to match that compromise. But we have made clear an independence referendum is very much on the table as an option if it becomes clear it is the best or only way to protect our vital national interests."