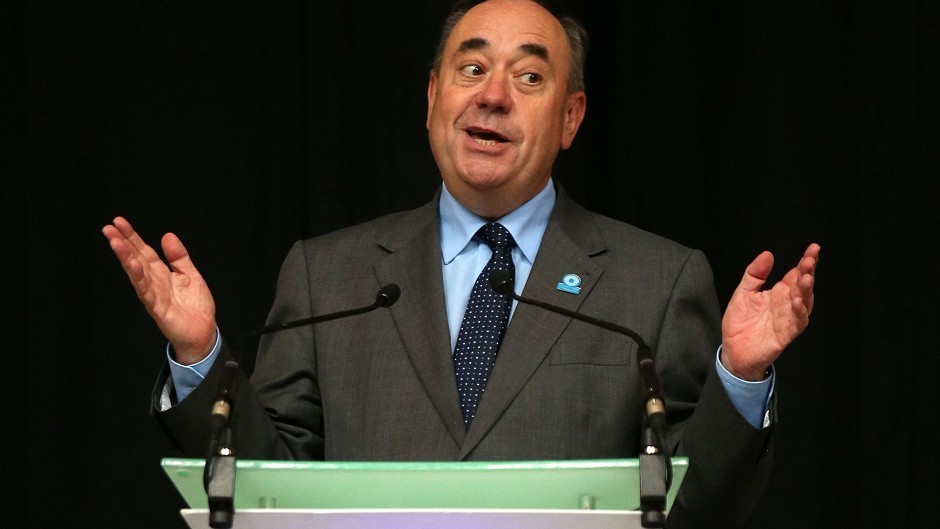 Alex Salmond has denied calling the 2014 Scottish independence referendum "once in a lifetime" – despite video evidence proving that he did.
The former First Minister was speaking on Radio 5 Live's Pienaar's Politics programme earlier today, where he said: "The phrase was not once in a lifetime, it was the opportunity of a lifetime, I said it on the Andrew Marr show, it's just one of these collective myths that evolve."
However, video evidence exists from the campaign trail of the 2014 vote where Mr Salmond said: "In my view this is a once in a generation – perhaps even a once in a lifetime – opportunity."
During the exchange on the Marr Show, Mr Salmond stressed that the vote was a "once in a generation opportunity".
Asked if this meant "18 or 20 years' gap," he nodded and said: "Yeah."
Current SNP leader Nicola Sturgeon came in for criticism earlier this week after calling for a second plebiscite on Scottish independence – despite many recalling the 'once in a generation' vow from her predecessor.
Ms Sturgeon argued that Scotland should be given another say on the independence question after the UK voted to leave the European Union, which she claimed is a "material change in circumstances".
@Iain_Whiteley Caught in a lie pic.twitter.com/DKMe6Gjpv1

— Mat Flusk (@MatFlusk) March 19, 2017
Scottish Labour today accused Mr Salmond of spreading "fake news" after the radio interview, with Westminster spokesman Ian Murray telling Politics Home: "Alex Salmond is trying to rewrite history."
He added: "We already know the SNP is perfectly happy to break the vow to the people of Scotland that the 2014 result would stand for a generation.
"But it's another thing entirely for Mr Salmond to claim he did not actually make this cast-iron promise to voters.
"The people of Scotland will see through this latest bluster from a man who walked into the poorest communities in Scotland and sold them a lie about the economic case for independence."
Responding to the controversy, Mr Salmond said: "[My statement] was not some writ that a referendum is for life but an observation that perhaps an opportunity which might only occur once in a lifetime."
He added: "On the radio this morning, I was contrasting that remark from a television programme in 2014 with an election manifesto commitment from 2016 in which Nicola Sturgeon said that the Scottish Parliament should have the right to hold another referendum if Scotland was dragged out of Europe against the will of the Scottish people.
"That is what is happening and that is what she is doing."