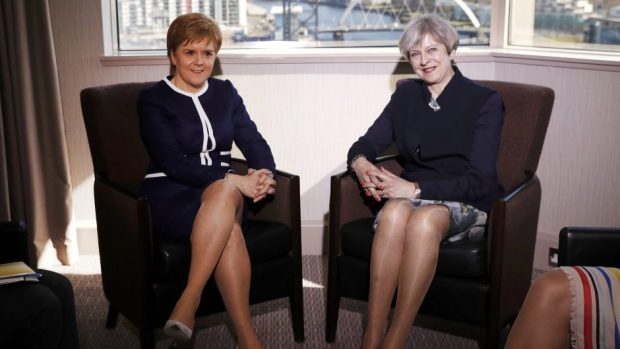 A leading expert has argued Scottish voters will still face "substantial uncertainty" about the implications of Brexit if a second independence referendum is held in spring 2019.
Kirsty Hughes, director of the Scottish Centre on European Relations, said people would clearly have more information by then than they do now.
But she insisted a final trade deal with the EU might not be "definite" until five to 10 years after the point of the UK's departure.
Nicola Sturgeon has called for another poll between the autumn of next year and spring 2019.
Outlining her timetable last month, the first minister said it must take place when "the terms of Brexit are known", but "before it is too late to choose our own course".
Theresa May has told the first minister "now is not the time", however, with Number 10 claiming it would be "unfair" to ask Scots to decide without the "necessary information".
In her paper Scotland's Brexit Choices, published yesterday, Ms Hughes said: "If Scotland did hold an independence referendum in March 2019, then Scottish voters would have more information on Brexit, and on the goals for an independent Scotland vis-a-vis the EU or European Economic Area (EEA), than they do now.
"But there would be some substantial uncertainty still and plenty of room for debate about the implications of the UK's Brexit deal in 2019 and of the potential impacts – positive and negative – if an independent Scotland joined the EU or EEA and the risks it might fail in such an attempt."
She added: "A final UK-EU27 trade deal would be clear, in outline, in March 2019, assuming the World Trade Organisation (WTO) cliff had been avoided.
"But a final deal might not be definite until five to ten years later.
"Some may argue Scotland should wait that long to have a second independence referendum – but that would be a choice for Scotland to go along with Brexit for the medium term."
A Scottish Government spokeswoman said: "The UK Government has stated that the terms of both the UK's exit from the EU and of a future trade deal must be agreed before March 2019 and in time for ratification by other member states – in other words, between the autumn of next year and the spring of 2019.
"This is the timescale endorsed by the Scottish Parliament for a referendum."
The first minister, who has vowed to press ahead with her plans, is due to outline her next steps in the coming weeks.