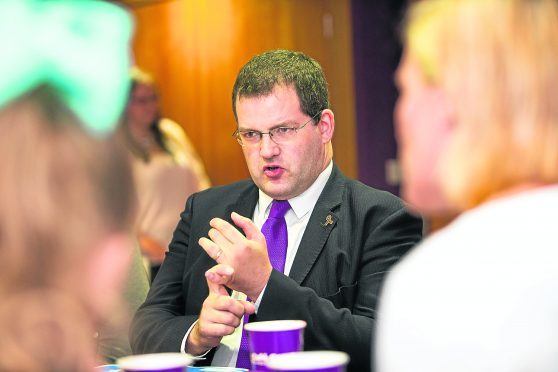 Pressure was mounting on shamed Aberdeen Donside MSP Mark McDonald last night, amid doubts over his future at Holyrood.
Politicians in the north-east were privately discussing the prospect of a by-election for the city seat after the former early years minister was suspended by the SNP.
Party bosses took the action on Thursday evening, saying that "new information" had been received regarding the alleged conduct of Mr McDonald.
The 37-year-old resigned from the Scottish Government two weeks ago after a complaint was made by a woman about a text message she claimed made reference to a sex act.
Initially, First Minister Nicola Sturgeon publicly backed him to stay on as an MSP and Mr McDonald pleaded for a "chance to change", revealing in the Press and Journal that he was seeking professional help.
But the revelation that further claims had been made about his behaviour left colleagues and opponents of Mr McDonald privately admitting yesterday that he was in a "very difficult position" going forward.
"We thought we were finally going to get a break from elections", said one official, as attentions turned to a potential by-election in the Aberdeen Donside constituency.
Mr McDonald, who could not be contacted yesterday and had suspended his Facebook account for the second time in two weeks, was elected to the seat in a by-election in 2013 following the death of his party colleague Brian Adam.
He had previously served as list MSP for the north-east region since 2011.
SNP sources confirmed to the Press and Journal that the "new information" related to allegations from a second woman, regarding an incident that was separate from the first complaint.
However, they insisted they were "unaware" of any more complaints, following reports that "several" women had come forward in recent days.
In a statement issued following his suspension, Mr McDonald said: "I have not been advised of any details relating to the information received by the party but I stand ready to fully cooperate with any investigation into this matter.
"I will make no further comment at this time and would ask that due process be allowed to take its course and that the privacy of my staff and my family is respected and that they be allowed to go about their daily lives without obstruction."
His suspension was announced just a day after Scottish Labour suspended its interim and deputy leader Alex Rowley while an investigation is conducted into allegations he sent abusive messages to a former partner.