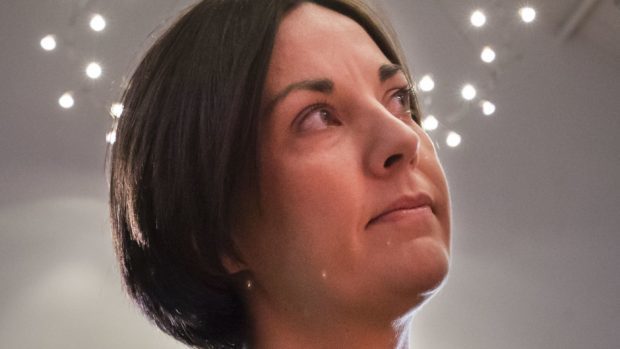 Kezia Dugdale was denied permission from Labour chiefs to jet off to Australia to take part in the reality TV show "I'm A Celebrity … Get Me Out Of Here!", it has emerged.
Richard Leonard, who was elected as Scottish Labour leader on Saturday, said his predecessor had sought approval before heading to the jungle.
Ms Dugdale, who unexpectedly quit as party leader in August, is due to appear as a contestant on the programme despite permission having been refused.
However, he added that he was "not persuaded" that the Lothian MSP should be immediately suspended from the party, saying a "proper discussion" was required on any sanctions.
UK Labour leader Jeremy Corbyn has already said that suspension would not be appropriate, arguing that it was Ms Dugdale's choice to take part in the TV programme, which also includes boxer Amir Khan, Boris Johnson's father Stanley and The Saturdays' singer Vanessa White.
Mr Leonard told BBC radio: "I've said over the weekend that we need to consider it and I've also expressed my own personal disappointment that that was a decision she has chosen to make.
"There are issues, not just the fact that she is there and the kind of programme it is and people's view of that, there is also a question about whether she got permission to do it."
Pressed on whether Aberdeen-born Ms Dugdale had been given the party's backing to take part in the show, he stated: "My understanding is she sought permission and wasn't given permission."
Mr Leonard added: "There is going to need to be a proper discussion about it, the circumstances around it and whether it is appropriate to take action or not.
"I am not persuaded the immediate step that the Labour Party needs to take is to suspend Kezia from membership of the Labour Party but I do think we need to have a discussion about it."
Ms Dugdale's decision to take part in the programme prompted an angry reaction from many within the party, with fellow Labour MSP Neil Findlay describing the move as "utterly ludicrous".
But Ms Dugdale's partner, the SNP MSP Jenny Gilruth, suggested on social media the former Labour leader was being bullied by some of those in the party.