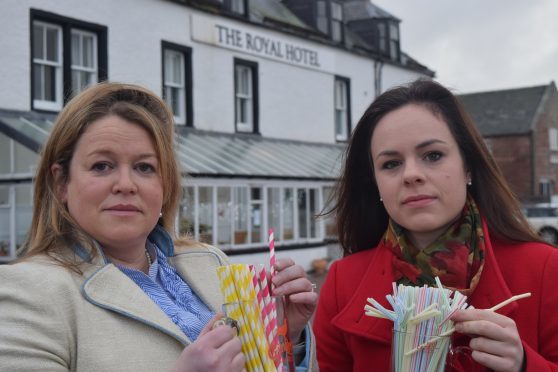 A campaign to ban plastic straws is to target international chains in a bid to cut pollution.
Kate Forbes, the MSP for Skye, Lochaber and Badenoch launched the drive yesterday with a view to convincing both the Scottish and UK parliaments to take action.
The inspiration came from primary schools pupils from Glasgow and Ullapool who successfully campaigned to make Ullapool free of single-use plastic straws.
Kate Forbes said: "One of the great opportunities in this campaign is targeting some of the big international chains."
"We know, for example, that Wetherspoons was handing out approximately 70 million straws in the UK, and that is one company.
"And that is before we start talking about Starbucks, McDonald's, Burger King, KFC – how many straws are being handed out by them on a daily basis, not just in the UK but across the world.
The MSP would prefer to see them join the campaign rather than be an antagonist.
"I would rather see them stop stocking plastic straws and stop giving out plastic straws rather than see them pay for the mitigation efforts afterwards."
One business that is leading the way is the Royal Hotel in Cromarty whose proprietor, Jenny Henderson, 43, described the move to stock only paper straws as a "no brainer."
"Living as we are on the shore of the Cromarty Firth which has one of the largest populations of bottle nosed dolphins in the UK – it just seems really wrong to do something that is going to damage that wildlife.
"I am not passing the cost on to our customers, I am happy to bear the cost because I feel the benefits outweigh the cost.
She added: "The customers are absolutely delighted, and that is from younger people right through to our older generation."
Wetherspoons has already rid its business of plastic straws as have an increasing numbers of smaller establishments across the UK.