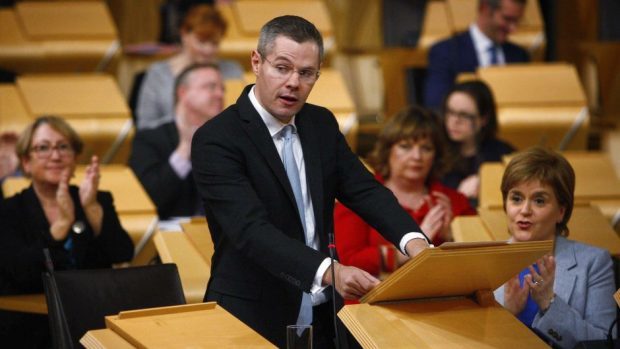 An influential group of MSPs has called on the Scottish Government to quickly "resolve" a dispute over funding for internal ferry services in the northern isles.
Local authorities and MSPs on Orkney and Shetland have been pressing SNP ministers to honour commitments to deliver a fair funding deal for the lifeline routes.
Councils on the northern isles receive only part funding from the Scottish Government to provide internal ferries, with the annual revenue cost to Orkney Islands Council (OIC) alone being around £5.5million.
There was disappointment when a new deal was not included in Finance Secretary Derek Mackay's draft budget last month.
However, the campaign was boosted yesterday when Holyrood's rural economy and connectivity committee urged the government to find a solution as part of this year's budget.
In a new report scrutinising the impact of the budget, the MSPs said: "The committee welcomes the Scottish Government's commitment to continuing dialogue with Orkney and Shetland Islands Councils in relation to the fair funding principle for internal ferries in Orkney and Shetland.
"It calls on the Scottish Government to treat this matter as a priority and to satisfactorily resolve it by the conclusion of the current consideration of the draft budget."
The recommendation was welcomed by northern isles MSPs Tavish Scott and Liam McArthur, who said: "The finance secretary must now respond. There are no excuses left."
Last night, a spokesman for Mr Mackay said: "Responsibility for internal ferries remains with the local authority.
"The Scottish Government recognises the vital importance of these services to the local people and economies, and have been in regular dialogue with the Orkney and Shetland local authorities in order to best ensure fair funding in provision of these services
"The Liberal Democrats have made repeated calls on this issue, but have not put a proposal for consideration as part of the budget negotiations."