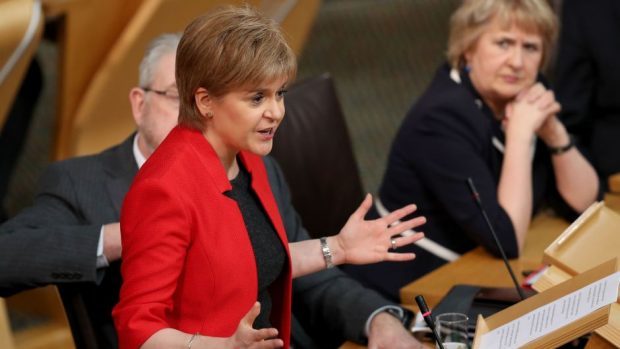 First Minister Nicola Sturgeon has been urged to halt a controversial new GP contract amid claims rural doctors could lose up to 87% of their funding.
She faced calls in Holyrood yesterday to "pause" the process so that MSPs could establish whether the deal would "destabilise a situation that is already a crisis".
Family doctors in the Highlands were dealt a major blow last week after their colleagues agreed a new contract despite fears it could lead to the "extinction" of rural practices.
A nationwide poll of doctors found more than 71% were in favour of adopting the new deal, which was drawn up by the Scottish Government and the British Medical Association (BMA).
The agreement – which is backed with £100million of Scottish Government funding in its first year and will come into force on April 1 – aims to cut workload and make it easier to run practices, including introducing a fund to help doctors buy or lease premises, and bringing in measures to reduce the burden of paperwork.
However, the Rural GP Association of Scotland (RGPAS) claimed in the run-up to the vote that new funding arrangements would inevitably lead to the "extinction" of rural practices.
Shadow Health Secretary Miles Briggs raised the issue at first minister's questions yesterday, highlighting the case of a rural family doctor in Argyll and Bute who stood to lose 87% of funding.
The Conservative MSP warned the agreement set "rural GPs against urban GPs", and added: "They should pause the contract process until the parliament's health and sport committee has had the opportunity to properly scrutinise the new contract in order to ensure that it does not further destabilise a situation that is already a crisis for general practice across Scotland."
Ms Sturgeon responded: "Of course we must listen to the issues for rural GPs, which is why a short-life working group has been established to look specifically at those issues.
"Members do not simply have to listen to the Scottish Government on this; it is the British Medical Association's position that the concerns that are being expressed by rural GPs are unfounded and that no GP will lose funding as a result of the new contract.
"That is the reality of the situation, but I accept that we have to convince rural GPs that that is the case, and we will continue to work collaboratively with them to seek to do exactly that."