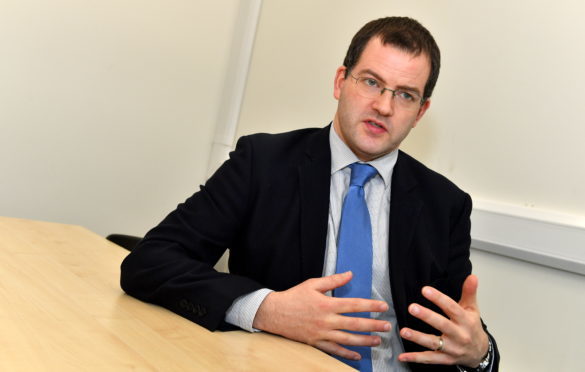 Mark McDonald affirmed that he was not a "criminal" yesterday as he made his return to Holyrood amid a storm of controversy over harassment allegations.
After a four month absence since he quit as early years minister, the under-fire Aberdeen Donside MSP insisted he intended to "keep my head down and do the job that I was elected to do".
And amid reports that one of his alleged victims had stayed away from parliament because of his return, Mr McDonald told journalists he was "not here to cause any upset or antagonism".
The 37-year-old former city councillor quit the SNP last week and announced he would return to Edinburgh to sit as an independent, despite calls from First Minister Nicola Sturgeon and other former colleagues for him to resign and trigger a by-election.
He admitted his behaviour had caused "hurt and offence" to two women and offered them a "public and unreserved apology", but insisted he wanted the chance to prove that he had changed.
Addressing the press on his return, Mr McDonald dismissed a comparison with Bill Walker, after being reminded that he had backed calls for his former SNP colleague to quit Holyrood in 2013 when Walker was convicted of domestic violence charges.
"Bill Walker was convicted of a criminal offence and that was the thing that led to him leaving parliament," he said.
"At no stage in this process has there been any indication or suggestion that my conduct was criminal, and that remains the case."
The married father-of-two arrived in parliament less than 24 hours after SNP Glasgow Cathcart MSP James Dornan lodged a formal complaint calling for him to be removed, saying that one of his staff members had been harassed by Mr McDonald and later suffered a stroke.
Holyrood's standards committee will consider the complaint at a meeting tomorrow.
"I have said throughout the process that I am not coming back to parliament to antagonise anybody, or upset anybody," Mr McDonald said when informed that one of his alleged victims had refused to go to work in Holyrood yesterday.
"I'm coming back to do the job that I was elected to do on behalf of my constituents, to represent their interests.
"I'm here to keep my head down and do the job that I was elected to do."
But former Scottish Labour leader Kezia Dugdale used a newspaper column to insist that he could not effectively represent the Granite City seat as an independent, saying: "The waves of the North Sea could pour into Pittodrie, and Mr McDonald could only debate it in parliament after everyone else has had their say and only if there was time."