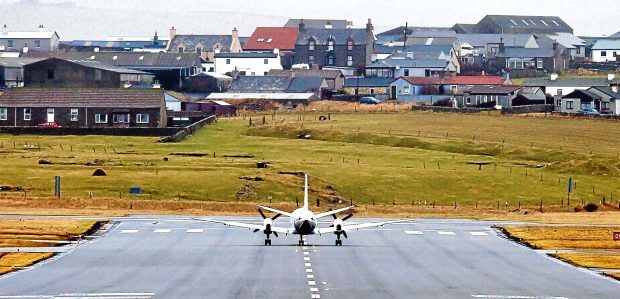 Island airport chiefs should be sacked unless they agree to hold a thorough consultation on controversial car park charges, it was claimed yesterday.
Furious MSPs from across the north lined up at Holyrood to condemn the management of Highlands and Islands Airports Ltd (HIAL) over the introduction of a £3 day charge to park at Sumburgh, Kirkwall and Stornoway airports.
Shetland representative Tavish Scott branded it a "tax on island life" as he urged ministers to halt the process until a proper consultation is carried out.
Shetland councillors seek urgent talks over Sumburgh Airport parking charges plan
"If they don't do that, get rid of this board. A board with no island knowledge whatsoever, and appoint people who can run the company efficiently," he added.
Under plans announced in March, the three island airports would join HIAL-operated Inverness and Dundee airports in charging for parking from July 1.
About £500,000 would be loaned from the Scottish Government to prepare the infrastructure at the car parks, with HIAL projecting it can recoup the money in the first 12 months of operation, and reinvest future revenues in facilities at the airports.
But the announcement left many islanders reeling, amid claims a consultation and impact assessment should have been carried out first given the lack of alternative public transport connections for many.
During yesterday's Holyrood debate, Orkney MSP Liam McArthur said the board had "shown contempt for our island communities", while north MSP Rhoda Grant said it "could actually put people off living on islands".
Highlands and islands MSP Edward Mountain said surveying passengers after the decision had been made, as HIAL has done, only added "salt to the wounds" and "insult to injury".
And fellow north representative Jamie Halcro Johnston said he hoped the debate would force HIAL to "rethink and reverse" the charges.
Responding to the comments, Transport Minister Humza Yousaf said HIAL was "genuinely" consulting on the practical implementation of the charges, that he suspected there could be some changes afterwards, but that the fees were required to secure the "sustainability of the air service".
A HIAL spokesman said: "Today's parliamentary debate clearly illustrates the importance of sustainable air transport provision for the Highlands and Islands.
"However, there remains an urgent need to raise the revenue required to reinvest in maintaining viable air services for the communities we serve and a fair and proportionate parking charge for airport users is one means of maintaining the necessary investment."