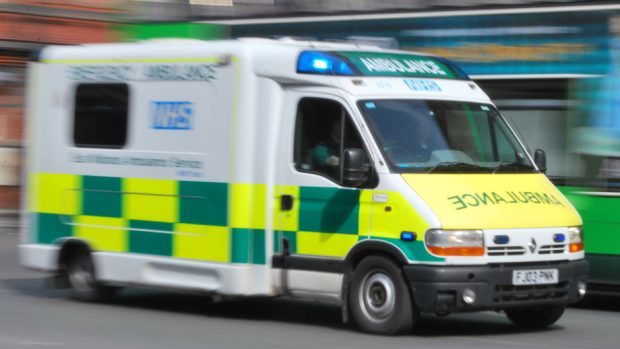 Shock new figures show that ambulance crews are failing to meet their target response time in almost 40% of "life threatening" call-outs in the north and north-east.
Official data has revealed that since the start of 2017 there have been 3,839 responses to 999 calls which have taken too long in the north division, out of a total of 10,104.
The proportion of responses to "immediately life threatening (ILT)" incidents which were met within the eight-minute target has fallen in the division in every year since 2013, from 71.9% to 62.98% last year, and down to 59.3% in the first four months of 2018.
And the average response time has also dropped in each year in Grampian and the Highlands and islands, from 7.55 minutes in 2013 to 9.48 minutes this year.
Longest responses for ILT cases in the north division in 2017 included a patient waiting one hour and 25 minutes while unconscious and gasping, another who waited one hour and 23 minutes while unconscious, and someone who was "not alert" after an allergic reaction but waited one hour and 21 minutes.
North-east Labour MSP Lewis Macdonald expressed alarm at the figures last night, and demanded fresh investment in the life-saving service.
"When it comes to immediately life threatening calls every second can count, so it's a matter of real concern that in over a third of incidents the target has not been met," he said.
"The north is more rural when compared to other regions in Scotland, so one would expect response times to be longer but these figures are still worrying.
"Ambulance staff do a great job under real pressure and it's vital that they get the support and resources they need.
"Demand on our health services including the ambulance service is increasing, and there must be the investment from the Scottish Government to meet this demand."
In November 2016, the ambulance service changed its definition for Category A cases from "potentially immediately life threatening" incidents to "immediately life threatening incidents", meaning fewer now fall within the eight-minute target.
As a result, the number of cases in north division which fell under the top category and target – which includes car crashes and heart attacks – plummeted from 17,719 in 2015 to 7,436 in 2017.
A Scottish Ambulance Service spokesman said: "Our new response model, implemented in 2016, is enabling us to prioritise the sickest, most seriously ill patients; as a result we have almost doubled survival rates for cardiac arrest patients since 2013 and an additional 62 people returned home to their families in 2016-17 compared to the previous year.
"Rather than attempting to get to all patients within eight minutes – an arbitrary, blanket target introduced in 1974 to cover the whole of the UK – this new model has enabled us to focus more on saving the lives of critically ill patients, such as those who have suffered a cardiac arrest, and improving outcomes for other patients.
"We are investing in training 1,000 new paramedics over five years and specifically recruiting more staff in the north of Scotland including eight new staff for our station in Elgin, nine new staff in Caithness and three new staff in west Grampian.
"In addition, our station in Dufftown will be changing  from being on call to being covered 24/7."
A Scottish Government spokesman said: "Our ambulance crews care for patients in some of the most remote parts of the UK.
"Even then, they reached 75% of patients in under 10 minutes and 96% within 20 minutes across the whole of Scotland in 2017, saving more lives year on year.
"While response time is an important, it is also the clinical expertise of ambulance teams that saves lives.
"We've invested almost £900 million in the Scottish Ambulance Service (SAS) in the last four years and are committed to supporting the service by training additional 1,000 paramedics over course of this parliament, building on the 16.5% rise in SAS staffing over the last decade."