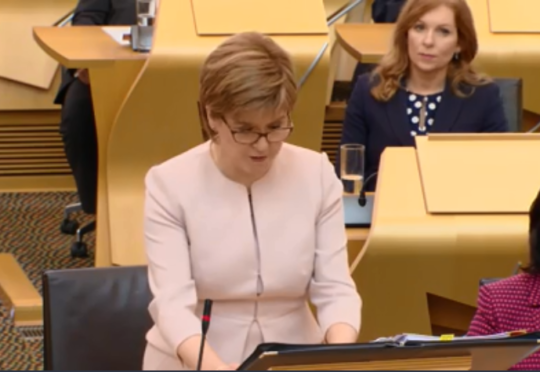 Earlier this week the Highlands topped a British league of the region's with the most road miles bereft of mobile phone coverage.
And yesterday during First Minister's Questions at Holyrood, Banffshire and Buchan Coast MSP Stewart Stevenson asked for Ms Sturgeon to outline the discussions between her government and Westminster to address the issue.
The First Minister said the UK Government's failed infrastructure project promised 84 masts to cover 'knot spots' but only managed to deliver a "grand total of three".
The research, by the RAC Foundation, found drivers who break down on more than 5,000 miles of Britain's roads cannot call for help because of a lack of coverage – and the Highlands hit first place with 910 miles.
Ms Sturgeon said: "We have created our own mobile infrastructure plan committing £25 million to improving 4G coverage.
"We've recently awarded a contract for this programme and the supplier is currently working towards delivery of the initial 16 sites in remote parts of Scotland."
Mr Stevenson went on to ask whether it was now time for responsibility and the associated funding for mobile telephony to be completely devolved from the UK Government.
Ms Sturgeon said: "Absolutely. There is a pattern that emerges where matters are reserved.
"The UK government doesn't get its act together and fails to deliver and then the Scottish Government has got to step in to do Westminster's job for it.
"That's been true in aspects of welfare and it's now true of mobile connectivity so I think it's about time we cut out the middle man in all of this and devolved these powers to Scotland so we can get on with it ourselves."