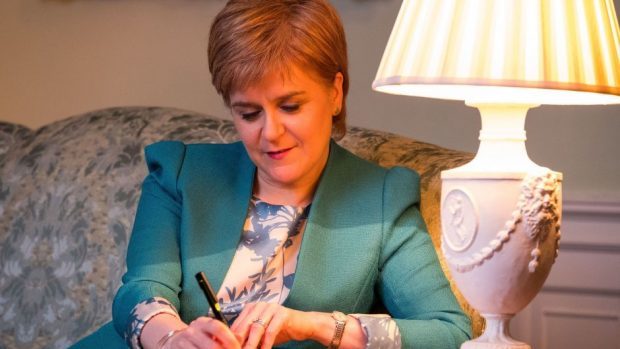 Nicola Sturgeon has been taking time out of her busy schedule to respond to touching letters from young children who are eager to see wolves reintroduced to the Highlands.
Newly-released documents show how the first minister personally wrote back to the youngsters after they drew cartoons for her in hand-written letters.
Ms Sturgeon responded to the most recent letter in June, as she was preparing to order her biggest Cabinet reshuffle since becoming SNP leader.
The youngster had attached photographs of wolves to the letter – which is marked "FM will reply" by civil servants – and wrote: "Dear First Minister.
"Please can you introduce European grey wolves to our conutry (sic). Wolves are interesting and they keep the deer levels down.
"The wolves were here long before we were and have a right to live here. We need 2m high walls for farmers to protect the sheep and lambs in the farmlands."
Ms Sturgeon responded, thanking the unnamed child for the letter, and added: "Although this idea may sound quite exciting, any plans to reintroduce wolves would have to be given careful thought.
"As you can imagine, farmers would be worried about the impact the wolves would have on their farm animals, especially the young and small ones such as lambs, calves, sheep and pigs; even the larger ones such as cows and horses would be at risk if the wolves were hungry and farmers would have to keep a constant eye on their livestock as 2 metre high fences would be too expensive to build."
She added: "I hope you find this to be helpful and are looking forward to your summer holidays."
The documents show that it was not the first time that Ms Sturgeon had responded to such a letter.
In July last year she wrote back to another child who had drawn a wolf and a cartoon of her "wolfpack".
The youngster had written: "I think wolfs should be re-intrujust to Scotland because they are really nice to there pack and only attack if you attacked it or its pack and if its hungry (sic)."
Ms Sturgeon again explained the Scottish Government's position, and added: "I hope you find this information to be helpful and I have to say I do like the drawings of your own wolf pack."