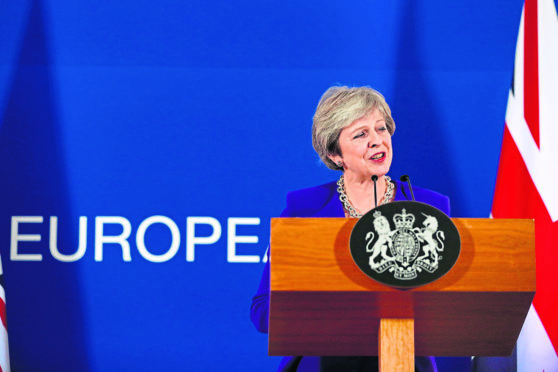 Theresa May has declared that EU trawlers will not have access to UK waters after 2020 unless European leaders sign up to a fair Brexit fishing agreement.
The warning was contained in a letter to her 13 Scottish Conservative MPs in an attempt to reassure them her Brexit deal will be in the interests of the fishing industry.
The letter was made public while the Prime Minister made a fleeting visit to Scotland in an attempt to sell her Brexit deal.
Mrs May was replying to a letter sent by her Scottish MPs earlier this month in which they expressed concern the deal would prevent the UK from independently negotiating access and quota shares.
Critics of the deal have warned that EU countries would threaten trade reprisals in an attempt to retain their current UK fish quota and French President Emmanuel Macron warned that, unless EU trawlers retain their current access to UK waters, the wider trade deal will fail.
The Prime Minister said the UK would be a "an independent coastal state with full control over our waters", but her letter stopped short of guaranteeing that the UK will be out of the Common Fisheries  Policy by 2020.
She claimed EU attempts to link access to UK waters and access to market had so far been thwarted and warned that, if a fair agreement on the issue was not reached, EU boats would be banned from British waters.
Her letter said: "It has always been the EU's position that there should be a link between access to waters and access to market as part of these arrangements – but they failed to achieve this in both the political declaration and the withdrawal agreement.
"It remains our resolute position that there should be no such link. If we can't reach a new and fair agreement by the end of 2020, then the default is that EU vessels would have no access to our waters."
Scottish Secretary David Mundell has indicated he could resign if the UK remains tied to the CFP beyond 2020.
Mrs May's letter confirmed the UK Government was committed to getting a fisheries deal by the end of 2020, but conceded there was an option to extend the transition period.
The Prime Minister said she was against extending the transition period, but admitted that if a final deal was not ready by the end of 2020 the UK would be left with a "sovereign choice" between that option or activating the Northern Ireland backstop arrangement.
She said: "While there is an option to extend the implementation period for a time limited period, as I have said many times, I don't want to extend the implementation period and I do not believe we will need to do so.
"This is an insurance policy that would only apply in the unlikely event that it takes longer to secure a future relationship than planned."
Meanwhile, Tory MPs and MSPs rallied behind a Scottish Fishermens' Federation pledge demanding full control of UK waters to be taken back from the EU.
As of last night, no SNP politicians had signed the pledge on the grounds that it backs Brexit.
On her visit to the Scottish Leather Group in Bridge of Weir in Renfrewshire, Mrs May declined to say whether she would sign the pledge, but said she was "delivering it".
A SNP spokesman said: "The SNP's position is clear – we will vote against the Tories' Brexit deal which sells out fishing at every step.
"Any Tory that signs up to this pledge must also vote against the Prime Minister's deal which makes clear that the transition period could be extended meaning that the UK would not be an independent coastal state by 2020."