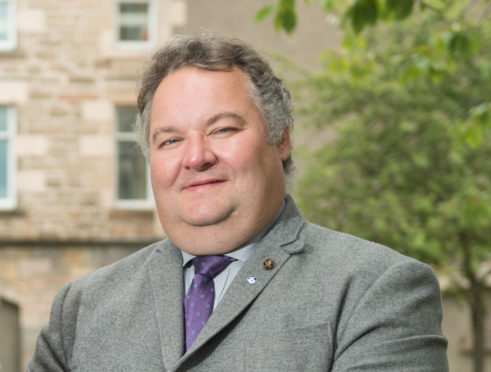 Moray Council leaders have warned they have to make £7.3million worth of extra cuts to balance their books following Derek Mackay's budget.
A statement issued by three of the local authority's four political groups – including the SNP – claim the multi-million pound drop means they will have to consider axing some public services.
The local authority has been desperately trying to identify savings over the last few months.
---
>> Keep up to date with the latest news with The P&J newsletter
---
It is estimated that Moray Council needs to cut £12 million from next year's budget and a further £9m the following year in order to stave off bankruptcy.
Under current proposals, Elgin Community Centre could be closed, while the opening hours of libraries may also be slashed.
Fees for leisure services, such as swimming pools and gyms, will be increased, while a charge for the collection of garden waste will be introduced. School cleaners' hours could also be slashed by 18%.
And now council leader Graham Leadbitter has warned that the authority will now need to identify other ways of axing £7.3million as a result of the Scottish Budget – on top of the £6.4million savings already identified for 2019/20.
Figures released by the Scottish Parliament Information Centre (Spice) yesterday suggested that the Finance Secretary's draft Scottish budget has left Scottish councils facing cuts when ring-fenced funding is taken out of the equation.
The figures suggest that Moray faces a £2m budget reduction when the coming year (2019/20) is compared with 2018/19, a fall of 3%.
But when the Moray finance team looked at the overall picture, it was calculated that a far greater cut in spending was required.
The statement was signed by Mr Leadbitter and his SNP co-leader Shona Morrison plus George Alexander, leader of the councillors' open group, and John Divers, the leader of the Moray Alliance Group.
It says the council's finance team had examined the Scottish Government's local authority cash settlement to work out the consequences for its 2019/20 budget.
"It is looking like there will have to be another major reduction in spending, over and above the £6.4 million savings already identified for next year," the statement said.
"At present it is estimated that we will need to reduce spending by a further £7.3million to balance the budget in February. That will mean it is not possible to continue to fund many of the services we currently provide and, as a council, we'll have to prepare for this by considering what further services will have to go at our next meeting on January 23."
Meanwhile Conservative group leader Tim Eagle claimed the budget would rip apart the "very core" of Moray communities.
Mr Eagle said: "The council has already saved well over £40m over the years. There are few options left for saving money without impacting essential services in our rural communities and that is not something that my group or I can support."
The Spice figures suggest Aberdeen City, Aberdeenshire and Argyll and Bute faced a 3.3% fall in funding when ring-fenced cash was excluded. The Western Isles were in line for a 3.5% cut with Orkney and Shetland facing a decrease of 3.2% and 3.9% respectively.
The Scottish Government has said the overall council funding package of £11.1billion represents a 3.8% increase. But when ring-fenced cash was excluded, Spice said there was a £157.2million decrease in cash to provide services – the equivalent of a 1.7% fall across Scotland.
Public Finance Minister Kate Forbes said: "We continue to ensure that our partners in local government receive a fair funding settlement despite further cuts to the Scottish Budget from the UK Government. We are delivering a funding package of £11.1billion for local authorities next year – a real terms increase of over £210 million for essential public services in Scotland.
"Moray Council will receive £177.7 million to fund local services in 2019-20. Using their council tax powers they could also generate an additional £1.3million to support the delivery of essential local services, meaning an extra £6.2million next year."