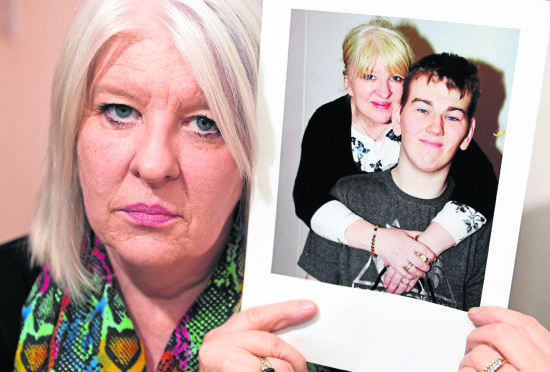 The Scottish Government has been urged to "get a move on" with the inquiry into the case of an Aberdeenshire man with learning difficulties who has spent his adult life in a maximum security hospital.
At First Minister's Questions, Aberdeenshire West MSP Alexander Burnett asked for an update on a promised investigation into Kyle Gibbon, 31, from Kemnay.
Mr Gibbon has been in Carstairs since he was 18 – despite having no criminal convictions when he went in.
Inquiry to be launched into why Aberdeenshire man with ADHD was locked up in psychiatric hospital
Mr Burnett has pressed the SNP government to open an inquiry into whether Mr Gibbon – along with eight other State Hospital patients with autism and other difficulties – should be kept beside murderers and rapists.
The Tory member asked Nicola Sturgeon when a review of these cases would be held.
He said: "It was quoted that the Scottish Government announced plans to hold an inquiry into why Mr Gibbon, alongside eight other people with learning difficulties, have been detained in a maximum-security hospital.
"A previous article in December said the minister for mental health would be carrying out an inquiry into Carstairs by the end of January. So can the First Minister confirm that Kyle's case is being investigated?"
Ms Sturgeon replied that Mental Health Minister Clare Haughey would get in touch with Mr Burnett about the case. The first minister added that patient confidentiality meant she could not comment on an individual case.
She added: "I will say that diagnosis of a behavioural disorder is not in itself cause for detention and that there are significant safeguards where compulsory treatment is necessary, including the right of appeal.
"Admission to the state hospital is based on diagnosis of a mental disorder that requires treatment under conditions of special security and which cannot be suitably cared for in a hospital other than the state hospital.
"The Minister for Mental Health pays very close attention to such cases and we will do everything possible to ensure that all rules and regulations are being properly adhered to.
"I will ask her to write to the member with whatever further detail it is appropriate to share with him."