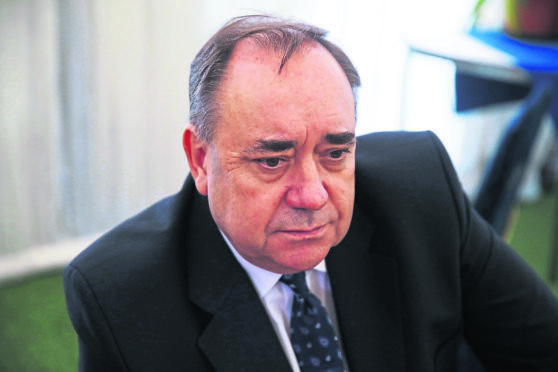 Fresh questions have been raised about a meeting between Nicola Sturgeon and Alex Salmond following the release of the official diary of the first minister's chief of staff.
A redacted version of the government diary of Liz Lloyd, the special adviser who helped arrange the meeting on April 2 last year, made no mention of the encounter between the two SNP politicians at Ms Sturgeon's Glasgow home.
Ms Lloyd was at the meeting when Mr Salmond first told Ms Sturgeon that he was facing a Scottish Government investigation into his conduct.
Her diary indicated that meetings had been cancelled on that day, but the redacted version made no mention of Ms Sturgeon or Mr Salmond.
The encounter was the first of three meetings and two telephone conversations Ms Sturgeon held with Mr Salmond last year.
Ms Sturgeon has been criticised for not telling the civil service of the first meeting until June, but has insisted it had been to discuss SNP business.
The meetings are likely to be a key part the Holyrood investigation into the controversy as well as another inquiry focusing on the ministerial code.
Controversy over the meeting re-ignited when Ms Lloyd's diary was published under Freedom of Information legislation.
A Scottish Tory spokesman said: "People will certainly have questions to ask about the diary of a senior taxpayer-funded Scottish Government employee.
"The SNP government does not have to wait for the Holyrood investigation, and could clarify exactly what this member of staff was doing on these days, and why."
A Scottish Government spokeswoman said: "The First Minister has set out the position on this matter in a statement to Parliament on January 8, 2019, and in responses to questions at First Minister's Questions on January 10 and 17.
"It would not be appropriate to add to these responses at this time."
The Scottish Government investigation into allegations of harassment against Mr Salmond collapsed when it was challenged by the former First Minister at the Court of Session.
Mr Salmond has since been charged with two counts of attempted rape and faces several charges of sexual assault.
He has denied any criminality.