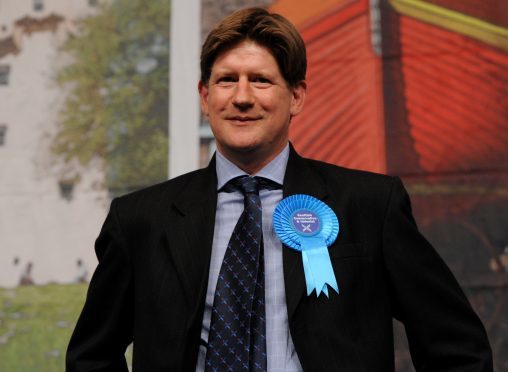 A MSP campaigning for a Kemnay man stuck in Carstairs has said taxpayers would be "astonished" to learn that keeping a patient at the State Hospital costs £5,837 per week.
Aberdeenshire West MSP Alexander Burnett renewed his calls for a review of Kyle Gibbon's case after figures showing the average cost per patient were revealed under Freedom of Information (FOI) legislation.
Mr Gibbon, who suffers from ADHD and a learning disability, has been in Carstairs State Hospital almost continuously since the age of 18 despite not having any criminal convictions when he went in.
Yesterday Mr Burnett condemned the "enormous public cost" after the figures came to light and called on the authorities to take a different approach to cases like Mr Gibbon's.
The 31-year-old had been a patient at Royal Cornhill in Aberdeen and was due to move into supported accommodation. But following concerns over his care he was sectioned and transferred to the South Lanarkshire facility where he has been ever since.
His mother Tracey, from Kemnay, fears that he may be stuck in the State Hospital because she cannot afford the cost of having his case reassessed. An independent review would cost £2,000 with legal aid only meeting £500 of the costs.
Mrs Gibbon claims her son has been subject to the same brutal restraint as some of the hospital's more violent inmates – leaving him with a broken arm following one incident.
Since entering the hospital he has resisted  restraints – incidents that the health system logs as "assaults".
Mr Burnett was reacting to data uncovered in NHS Scotland's response to a FOI request submitted by the Citizens Commission on Human Rights.
According to NHS Scotland, it cost £303,556 per patient in 2017/18 – the equivalent of £5,837 per week.
The cost has steadily increased over the last decade from £135,513 – the equivalent of £2,606 per week –in 2007/08.
Mr Burnett said: "Taxpayers will be astonished to read these figures, which clearly show the enormous public cost of keeping people like Kyle in Carstairs.
"It is all the more galling when you consider that he has not committed any crime.
"I have been campaigning on his behalf and seeking changes to the procedures and approach to dealing with cases like this."
A Scottish Government spokesman said:  "The staff-to-patient ratio within the State Hospital reflects the increased levels of need and risk within the patient population, and allows for high-quality care to be provided to those presenting with the most complex and challenging care needs.
"Through our Mental Health Strategy we are reviewing existing mental health care and treatment legislation to determine if new measures are necessary to fulfil the distinct needs of people with learning disabilities or autism.
"It is worth remembering that The State Hospital is a hospital, not a prison. It provides care and treatment for patients whose illness is such that they require a high level of security to ensure their safety and that of others."