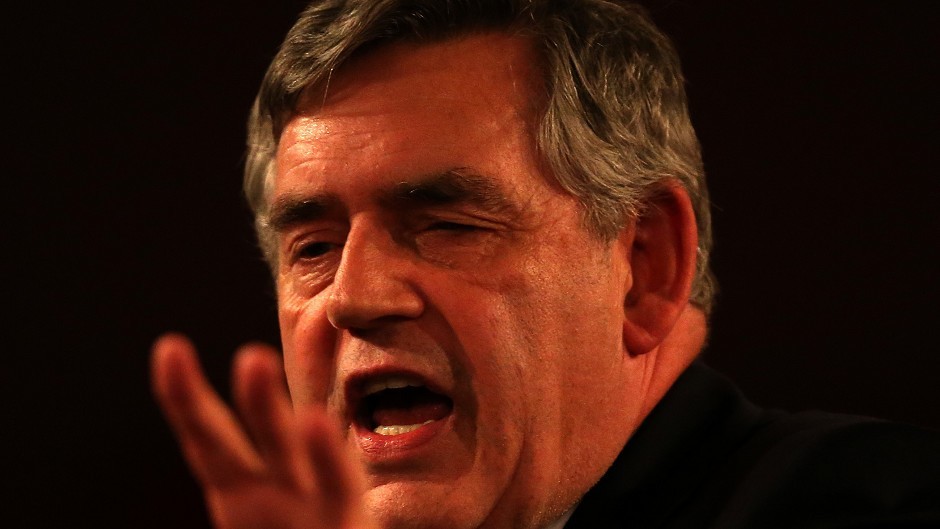 Gordon Brown has branded Conservative devolution plans a "Trojan horse" that could lead to Scots being unable to hold the office of prime minister again.
He spoke in the Commons for the second time this week as the fall out from Scotland's referendum continued to set the agenda at Westminster.
The Labour MP presented a petition signed by 120,000 people calling for the full delivery of the pre-vote promises made by Unionists, despite criticism from independence supporters who questioned why it was needed.
Mr Brown's latest speech on the constitution was also made amid reports that he has been "under pressure" from party figures to take over from Johann Lamont as Scottish Labour leader.
The former prime minister had already attacked Tory proposals for English-only votes at Westminster, and for the full devolution of income tax, during a six hour debate on Tuesday, claiming it would pose a fresh threat to the Union.
He issued a fresh warning last night, saying: "It looks like the Trojan horse for fiscal autonomy, which would split the Union and enable the SNP to get through the back door what they cannot get through the front door."
Mr Brown went on to suggest that it would threaten the ability of Scotland's representatives to get the top jobs, saying: "Scottish MPs are and must remain as qualified as any other to hold high government office, including the offices of prime minister and chancellor of the Exchequer."
Responding to Mr Brown's speech for the coalition government, Scottish Secretary Alistair Carmichael insisted that positive change would be delivered in the wake of the referendum No vote.
The Orkney and Shetland MP said: "I see an opportunity opening up to us now to build a new constitutional architecture. We have an unprecedented opportunity here."
Meanwhile, reports that senior Labour figures want Mr Brown to oust Ms Lamont in Holyrood were seized on by SNP MSP Sandra White.
"Party bosses in London are actively undermining Johann Lamont's leadership – destroying her claims to be in sole charge of the Labour Party in Scotland," she said.
"What is particularly telling is that Labour apparently thinks the answer to their problems is Gordon Brown, who never showed the slightest interest in standing for the Scottish Parliament – and whose credibility has plummeted after his pre-referendum promises on more powers for Scotland have been mired by David Cameron in the issue of English votes for English laws."