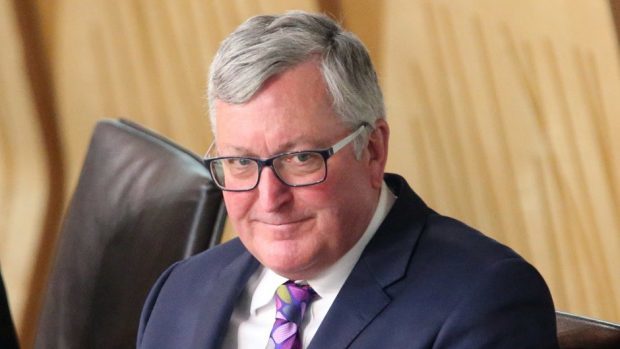 Fergus Ewing has been ridiculed by opposition politicians after he appeared in a "bizarre" SNP leaflet containing "nonsense".
The 'Waking the Highlands' document, which was published by the Nairnshire, Culloden and District SNP branch, has drawn scorn from critics for its high number of dubious claims and factual inaccuracies.
Local MSP Mr Ewing has produced a column for the pamphlet, which urges readers who want to make an "informed decision" on politics to visit a handful of online blogs, including one that SNP leader Nicola Sturgeon has sought to distance herself from.
An explanation of the so-called West Lothian question claims the issue arose because "England's 653 MPs" were "unable to vote on matters devolved to Holyrood", despite their being only 650 MPs in total in the House of Commons.
The pamphlet continues to simultaneously attack George Osborne for "growing" immigration and "xenophobia".
Last night, Scottish Liberal Democrat MSP Tavish Scott said political leaflets will "always take a view" but "tend to have some basis in fact".
He said: "This official SNP leaflet claims that Westminster is preventing Holyrood deciding on matters that are the Scottish Parliament's responsibility – bizarre.
"It is wrong on NHS funding in Scotland and continues the SNP's war against the BBC. The leaflet encourages readers to read a website that has condemned by the SNP leadership.
"Tucked in amongst this rubbish is a column from a serving SNP Government Minister.
"Political leaflets will always take a particular view but official party materials tend to have some basis in fact.
"It is hard to see how Fergus Ewing could allow himself to be associated with this nonsense."
The leaflet, which was produced this month, also suggests that the so-called English Votes for English Laws legislation means that lingerie tycoon Michelle Mone – who sits in the House of Lords as Baroness Mone of Mayfair – has more "influence" at Westminster than the SNP's 54 MPs.
Mr Ewing used his column in the document to discuss a number of local issues, including traffic lights in Nairn, as well as his work as Minister for Business, Energy and Tourism.
A spokesman for the SNP said: "The leaflet makes the point that the Tories have missed a number of their own targets."