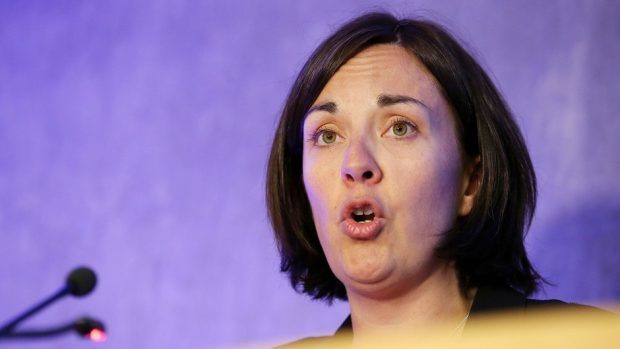 Kezia Dugdale will today announce radical new plans to raise more than half a billion pounds by using new powers to hike taxes.
The Scottish Labour leader is expected to suggest increasing income tax by 1p – a change that would see top earners pay almost £1,500 more a year.
Party officials claim the move would raise around £500million pounds for the Scottish Government's coffers – funds that would then be used to avert swingeing cuts to councils.
The SNP administration has faced criticism over the decision to slash local authority funding by 3.5% in its budget, which will be debated in parliament tomorrow.
But Ms Dugdale will use a set-piece speech in Edinburgh this morning to argue the Scottish Government should raise income tax in a bid to stave off the impending cuts to council services, including education.
She is expected to say: "Given the choice between using our powers or making cuts to our children's future, we choose to use our powers.
"We will tear up this SNP budget that simply manages Tory cuts and instead use the power we have to set the Scottish rate of income tax one pence higher than the rate set by George Osborne.
"This will provide an extra half a billion pounds a year to invest in the future.
"We don't do this because we want to use the powers for their own sake. We do it because there is no other alternative to cutting into our nation's future.
"This choice we make today on the Scottish rate of income tax would provide a half a billion pounds more to invest in our children's future.
"It enables us to stop cuts to schools and other vital public services, and to guarantee that spending on education will be protected in real terms in the next five years."
Her plans also include using 10% of the money raised to pay for a £100 rebate, issued by local authorities, for the lowest earners.
Teachers and nurses are among those who would be asked to stump up extra cash under the plans, losing £188 and £140 a year respectively.
Finance Secretary John Swinney announced his budget, which maintained the council tax freeze and pledged no rises in income tax, at the end of last year.
He has been involved with increasingly fraught debates with Scotland's 32 local authorities over their funding, which he insists is a fair deal.
A Scottish Government source said they believed the lowest paid would "actually lose out on the plan".
The source said: "Around 40% of the adult Scottish population don't earn enough to pay any income tax, and the lowest paid would actually lose out, because anyone earning less than £11,000 – mostly women in part-time work – can still pay National Insurance but would not benefit from the proposed £100 rebate.
"In addition, these proposals would create an unfair distortion in the system as someone earning just under £11,000 wouldn't get the £100 hand-out while someone earning £11,000 would."