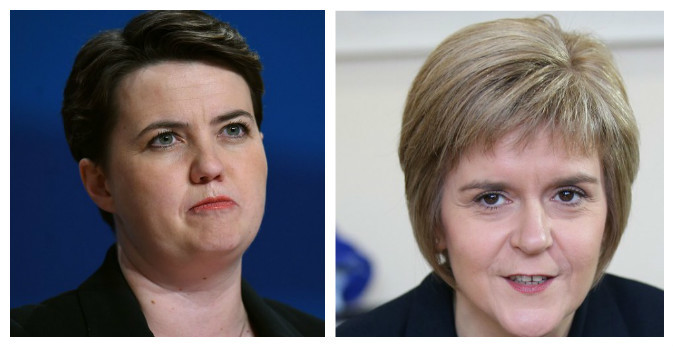 I'm going to blow my own trumpet.
Last week, I made three firm predictions about the council elections.
The first was that the Scottish Conservatives' revival would continue and they would have their best-ever results. They did. And some. Once Ruth Davidson sat astride a tank for a photo shoot. Now, she is parking it on Alex Salmond's Gordon lawn.
The second was that Labour would hit a new low. That came true too. It was another bad night for Kezia Dugdale's team. The Labour heartlands have become red deserts.
And finally, I forecast the Scottish National Party would hit an election high. They won most seats and most votes, but it was not the high water mark they had hoped for.
They didn't take overall control of Glasgow, and fell back in Dundee. Has their tactic of making everything about Indyref2 backfired?
So I admit it. I got one wrong. My trumpet playing hit one bum note.
But my ramblings last week were mostly about how Thursday's votes would supply a clearer picture of Scotland's new political landscape and a clearer guide as to what might happen in the General Election.
That is certainly true, and nowhere more than here in Press and Journal land.
Across swathes of the north east, Ruth Davidson's team are on the march. In most of Scotland, the election is shaping up to be a titanic battle between her and Nicola Sturgeon. I've said it before and the facts are now here to back it up: The tectonic plates have shifted.
Just look at the facts.
In Aberdeen, the Tories swept past the LibDems by adding another eight councillors, and, in Aberdeen South, secured nearly 30% of the first votes to the SNP's 25%.
In the 'Shire, 23 Scottish Conservatives stood for elected office. 23 were successful.
In Moray, the SNP got 31.6% of the vote. But the Conservatives topped that with 36.1%
In Angus, the SNP are down by six seats – the Scottish Conservatives up by five.
I could go on – but you get the picture.
In Perth and Gordon and in numerous seats further south, the voters have decided to treat Labour and the LibDems as also-rans. Even Alex Salmond and Pete Wishart are looking nervously over their shoulders. The threat is real and imminent.
All of this is only adding to cries in some quarters for political parties to stand aside in some seats to force the voters into a binary choice. Senior figures in the Green Party want colleagues to stand aside to gift their big brothers and sisters in the SNP a clear run at the Tories.
A senior Nationalist-leaning broadcaster is angry at the Scottish Green leader for even daring to stand. Not so much a coalition of chaos as one of connivance.
Across the UK, similar bogus, shabby and shoddy deals are being discussed. Lets gang up and stop somebody else winning they cry. What hogwash. What sinister, sleekit shenanigans. It should be rejected.
It is not up to the political parties to carve up democracy. That is the job of the voters. People will decide if they want to vote tactically. And the lesson of Thursday is that they are. Scottish people are speaking at the ballot boxes.
June 8 could be quite a day.
A complicated return
I was off flying again last week and spent a few days in Georgia. The country, not the US State. It is a stunning, vibrant and beautiful place. One which loves rugby and makes the most marvellous wine.
The trip meant a complicated return via Kiev and Amsterdam in the hands of KLM and their airline partners. Tickets were bought well in advance. The acknowledgments said all flights were confirmed.
So I checked in at Tbilisi and asked for my boarding pass for the second leg as well to be told I was only on standby.
KLM were ready to fly me on a three-leg trip, -but only put me on standby for the second leg. Prepared, it would seem, to leave me floundering in a sky of uncertainty just crossing my fingers and hoping I could board plane 2 when I landed.
As it happened, at the same moment they tried to say my seat was uncertain, their website was still selling seats. In business class. They were prepared to sacrifice me for a better paying customer.
It transpired that this was not an isolated incident – two other colleagues had experienced similar fates.
Well, it's not on. Don't retreat to the fine print of the terms and conditions of carriage. If you sell a seat, and it says "confirmed", there should be no room for doubt. If you want to sell tickets on a wing and a prayer, then say so at the point of sale.
The men and women in black
I had the pleasure of going to a dinner on Saturday night and, for a change, I wasn't the least popular person there.
It was the annual dinner and awards for the Edinburgh and District Referees and held at Tynecastle, home of Hearts. Not so much a case of singing for your supper as whistling for it.
The company was good – and the chat from Jimmy Nicholl, the former Manchester United and Raith Rovers star, superb. Mostly he waxed lyrical about the thrashings his team got when he managed the Blue Brazil, Cowdenbeath.
This involved matches when keeping the other side to fewer than ten goals was seen as a win.
But the evening made me reflect on our appreciation for the men and women in black. Or our lack of it. They are the people we love to hate and blame for our teams' own failures.
They get dogs abuse from all quarters and are expected to smile serenely and never rise to the bait. They have to keep their heads when all around are losing theirs.
But without them, and their counterparts in all other sports, there would be no sport.
So let's raise a cheer or three for the referees, umpires, judges, officials and their assistants for what they do. And for allowing me to be more popular than them, at least for one night.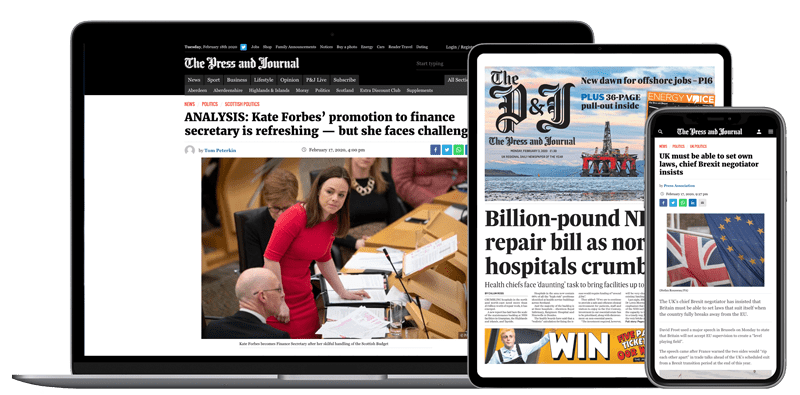 Help support quality local journalism … become a digital subscriber to The Press and Journal
For as little as £5.99 a month you can access all of our content, including Premium articles.
Subscribe