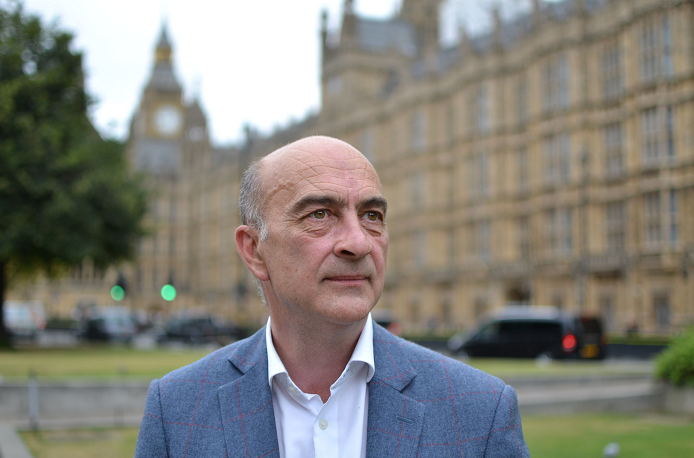 Last week I poked gentle fun at a Labour Peer for suggesting, mostly in jest, that some Nationalists might take umbrage at Alex Salmond's friendship with a senior Tory politician.
Little did I know what was to follow. Not as a direct consequence, but in a sad and ironic coincidence. Cue Ramsay's soapbox time…
A week ago Labour MP, Laura Pidcock, who won her North West Durham seat earlier this year, said that she had "absolutely no intention" of being friends with "any of them".
The 'them" she referred to are Conservative MPs.
In an interview with left-wing blog Skwawkbox, she said: "I feel disgusted at the way they're running this country, it's visceral – I'm not interested in being cosy.
"The idea that they're not the enemy is simply delusional…."
Where to begin… And who is delusional?
Well, where better than with the words of her murdered colleague, Jo Cox?
As she said in her maiden speech, and in what has become an epitaph to her short but inspirational short life: "We are far more united and have far more in common with each other than the things that divide us."
Her simple statement of truth and her tragic death inspired the #moreincommon movement.
Jo recognised that friendships should know no boundaries. That common cause and understanding and dialogue were the route to solving problems, and would have rejected any notion of "visceral disgust" between fellow MPs.
The very idea that two politicians who sat on opposite benches in the House of Commons could never be friends, that such a friendship would be beyond the pale, that it had to be a case of "them and us" is a mad, bad and dangerous way to do your politics. Indeed, it is a sad way to live your life.
The notion that you can only be pals with those from your own tribe is appalling.
To be so sure that your own world view is the only true view is a rocky and lonely road to travel.
Ms Pidcock ignores the truth of politics which Jo Cox understood and lived by: that most politicians are good people who share common goals but simply disagree about how to get there.
They all want the best education for our children, the best healthcare for our sick, a society that can live in peace and security. Indeed, it is the battle of ideas about how to achieve such laudable aims which is the lifeblood of our democracy.
Far from shunning each other, our politicians should embrace the challenge of opposing views and seek friendships outside of their own cosy comfort zone.
To close your mind to that most basic and wonderful human condition – friendship – to those with a different set of principles and ideas, beggars belief. Imagine being so sure of yourself that those who disagree can never be you friend?
By this crazy world view, we would be all be heading to hell in a handcart. Where would it end?
Christians shunning Muslims?
Remainers refusing to speak to Leavers?
Indy backers suing their No voting spouse for divorce?
In my time in politics – over a decade at Holyrood and more than four years in Downing Street – I had fundamental disagreements with those of other political parties. And yes, there were some with whom I would not have wanted to be friends. But not because of their political views or allegiances. Not because they were Socialists or Nationlaists or a different kind of Conservative. Just because I didn't get on with them, the person.
So, when our MPs return to the House after their summer hols, I hope that a hand of friendship is extended across the aisle to Laura Pidcock. And I hope she has the good grace and better sense to accept it.
The good, the bad and the ugly
And so the Edinburgh Festivals are over for another year. It has been, as ever, a joyous celebration of the good, the bad and the ugly of the arts.
The good? The sheer enjoyment of so many in the Capital acting, singing, dancing and spectating in a four weeks bonanza of cultural overload. My personal highlights were seeing Ben McIntyre at the book festival, listening to Dad's Army on the Fringe and seeing some amazing improvisation such as Austentacious.
The bad? I wont embarrass them by naming them here… I suspect they know who they are.
The ugly? The overflowing litter bins and the tortuous time it took to travel a mile across town. And the fliers. So many fliers. So many poor souls with smiles fixed like synchronised swimmers, peddling their artistic wares.
But it was a marvellous month. Let's do it again next year.
An inspirational day
Yesterday I had the enormous pleasure of helping out at the MND Scotland 5K fun run around Holyrood Park in the shadow of Arthur's Seat.
Nearly 600 men, women and children ran, jogged or ambled to raise money for this amazing charity. Their cause has been given added impetus and profile following the decision of our rugby legend, Doddie Weir, to make public his diagnosis with this killer disease.
The big fella is embarking upon a series of events to raise cash for the cause. The rugby community across Scotland, throughout the UK and around the world are rallying to his call to arms. A sizeable proportion, in every way, of his Scotland and Lions colleagues broke a sweat with him for the cause.
And on an inspirational Sunday afternoon in Edinburgh, a few rays of sunshine shone with hope that, one day, a cure will be found.
To all who took part and all who support them, we applaud you.