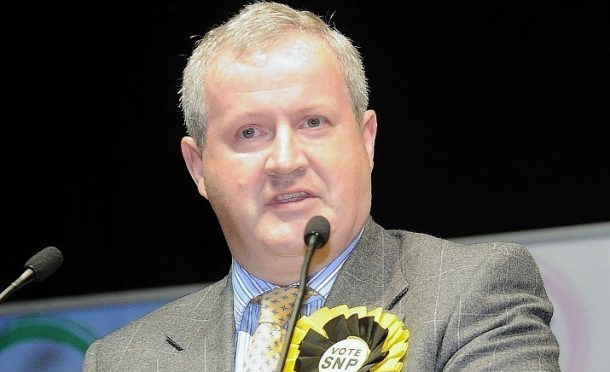 Time is running out to prevent a catastrophic extreme Brexit.
As the UK government moves into the critical second phase of the negotiations, and with just 10 months to go before a deal is due to be in place between the UK and EU, time is running out to prevent the unprecedented economic catastrophe of an extreme Tory Brexit.
We know Tory plans to drag Scotland and the UK out of the world's largest single market and customs union would destroy hundreds of thousands of jobs and damage the incomes, livelihoods, and living standards of millions of people across the country.
Analysis from the Bank of England, Fraser of Allander Institute, London School of Economics and many others, has revealed the devastating extent of a hard Brexit or no deal scenario for Scotland, England, Wales, and Northern Ireland.
In Scotland alone we stand to lose 80,000 jobs and £2,000 per head under a Tory hard Brexit – a huge blow to the Scottish economy that would cause lasting harm to industries and communities across our nation for decades to come.
Earlier this week I organised a cross-party summit at Westminster – inviting the leaders of the opposition parties to hold talks, and co-ordinate our efforts, to protect Scotland and the UK's vital place in the single market and customs union.
Short of remaining in the EU – as Scotland voted for by an overwhelming majority – protecting our single market membership is by far the best compromise, the least damaging option, and the only way to safeguard people's jobs, incomes, and living standards.
With the Brexit clock ticking it is now more important than ever that we have a united and effective opposition, putting differences aside, and working together in the national interest, to hold the UK government to account and retain our single market membership.
The Liberal Democrats, the Green Party, and Plaid Cymru joined the SNP at the summit, and together we committed to providing that strong opposition to a hard Brexit. It was, however, deeply disappointing that Jeremy Corbyn refused to attend and ruled out Labour's involvement.
We know a parliamentary majority for remaining in the single market is within touching distance if only Labour would get off the fence and get behind cross-party efforts.
Labour insists there should be a "jobs-first" Brexit that somehow protects our economy, jobs, incomes, and living standards – but the reality is there is no such thing as a "jobs-first" Brexit that involves terminating our single market membership. These outcomes are incompatible.
It is families, workers, businesses and farmers who will ultimately pay the price for a hard Brexit – with a drastically restricted international market, lower wages, higher food and fuel prices, and a poorer standard of living.
The Tories and Ukip might be the driving force behind a hard Brexit but, by refusing to join cross-party efforts, Labour will be just as culpable for the lasting damage it would do to UK jobs and prosperity.
In the remaining weeks and months I hope the UK government, and Labour party, will think again and come to support the only sensible solution to preventing the biggest threat our economy faces.
RBS must rethink branch closures
The prime minister's refusal to do anything about RBS closing branches, despite being a majority shareholder, is absolutely staggering.
In Scotland, 13 towns are about to lose their last bank, which will have a huge impact on the local communities and local economies.
When I raised this with the prime minster, she told me she wasn't planning to do anything about it.
The Tories are so out of touch they are unaware of how these closures will hit communities.
While more people are doing banking online, until we are 100% digital, there is still a need for a bank branch on our high streets.
I'm hearing from businesses large and small who would have to travel for miles, or keep large amounts of cash on their premises.
People would have to resort to storing money, and they do not have access to the advice or services that many of us who live in bigger urban areas take for granted.
For the communities who are now having to rely on mobile banking – I am being told of vans turning up late, queues in the rain, and a lack of disabled access meaning some people having to do their banking outside, in a car park.
RBS also has a duty to its customers – they really can't repay our communities by withdrawing from them, and the SNP is tirelessly campaigning to keep the branches open.
Theresa May's cabinet kerfuffle
It's the first week back in parliament after the Christmas break, and already it's been an embarrassing few days for Theresa May.
The reshuffle on Monday and Tuesday was intended to enhance the prime minister's authority over her chaotic and dysfunctional government but it backfired into another humiliating episode.
Justine Greening was offered the job of the Department of Work and Pensions, only to resign instead.
The prime minister managed to appoint a secretary of state for Northern Ireland who had never actually been to Northern Ireland before, and a new minister for women who has already been criticised by women's groups for not supporting the decriminalisation of abortion.
Theresa May ushered in Jeremy Hunt in order to replace him as health secretary – instead, apparently bowing to his demands and rewarding his disastrous record on the NHS in England by extending his brief to cover social care as well.
Oh, and Boris Johnson is still there, representing the UK on the world stage.
The Cabinet is still disproportionately white, male and stale, with more men and privately educated ministers than before.
Ian Blackford, SNP MP for Ross, Skye and Lochaber