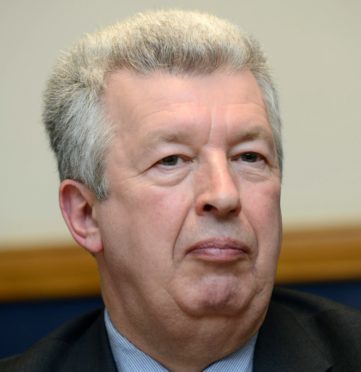 Over three years into the downturn, the oil and gas industry is showing signs of recovery. While the oil price will never again reach the heady heights of 2014, it has started to settle at a level where modest growth could return to the North Sea.
Thousands of jobs were lost, and many workers have had to go elsewhere to find employment, but we are beginning to see the first signs of people getting back into work and being able to plan for the future.
But it would be wrong to suppose that job losses are behind us, as longer-term contracts come to an end and the risk of redundancy reaches parts of the local and national supply chain which were protected by deals already done before the downturn started.
There has also been a real shortfall in investment and exploration over the last three years, which means some of the new business we might have expected simply will not happen.
It is deeply disappointing that the SNP saw fit to wind up the Energy Jobs Taskforce, as if the problems facing the North Sea were all behind us.
What we need to see now is action to ensure that we provide a sustainable future for the whole energy industry in the North East and across Scotland.
As Labour's energy spokesman at Holyrood, I will argue that we need to maximise the recovery of our offshore oil and gas, while also planning and investing to sustain a high-tech energy sector even after that job is done.
When oil and gas were first discovered in the North Sea, few people expected this industry still to be with us more than half a century later.
It is not just the natural resources that has made Aberdeen the energy capital of Europe, it is also the skills and expertise of the workforce and the new technologies developed in the North East for recovering oil and gas from a hostile and difficult environment.
It is those skills and technologies we need to build on, and Labour both at Holyrood and at Westminster stands ready to meet the challenge of doing just that.
We have already developed a comprehensive Oil and Gas Action Plan, which contains short, medium and long-term ideas to protect and grow the industry.
I and my colleagues in both parliaments will look to build on that action plan to ensure government at every level is working to protect and enhance the future of the North Sea.
With fresh ideas and renewed commitment, we will constantly press both SNP and Tory governments to deliver for the energy industry and the people who work in it.
It is vital that, while we will work to support the offshore industry, we fight on behalf of the workforce too. That means listening to what the workers have to say.
A big issue for offshore workers is helicopter safety, and the Offshore Co-ordinating Group of trade unions are rightly calling for an independent inquiry into the whole issue.
Full-time officers of the Unite and RMT unions in Aberdeen recently spoke at an All-Party Group meeting at Westminster, and their concerns have also been flagged up at the Holyrood Cross Party Group, of which I am a co-convener.
They have pointed to the evidence that their members are deeply concerned about making the journey to work, because of the helicopters which have ditched and the lives which have been lost in recent years.
Even helicopter manufacturers Airbus found in a recent survey that more than 60% of offshore workers would be reluctant to fly on Super Puma helicopters, and offshore unions are far from happy with the approach taken by aviation regulators in Britain and across Europe.
Technical fixes for identified risks are welcome, but they do not guarantee that faults or failures will never happen again, and many potential passengers remain deeply concerned.
I called a debate at Holyrood on these vital issues last year, and in December I organised a meeting between offshore unions and Transport Minister Humza Yousaf, to seek the Scottish Government's support for a public inquiry.
Labour and the trade unions will continue to make that case.
The North Sea has produced a great deal of energy in the last fifty years, and will do so for decades to come. But we must always put the safety of the people who work there above all else in planning the future of our energy industries.
************
No cause for complacency after collapse of Carillion
The collapse of Carillion has sent shockwaves across the country, and nowhere more so than in and around Aberdeen.
Workers on the Western Peripheral Route have faced tremendous uncertainty about their futures, and deserve our support.
SNP Minister Keith Brown has told MSPs that the project will not be affected by Carillion's collapse, but we are nowhere near the end of this story.
Another partner in the Aberdeen Roads consortium, Galliford Try, has had to raise millions more to cover for Carillion's failure, and ministers are simply unable to tell us when the AWPR will finally be open for business.
Nor can we be sure what the impact is going to be on sub-contractors and on other jobs here in the north-east. While most of those directly employed by Carillion have found alternative employers for now, the bigger picture is full of uncertainty.
Corporate cowboys have been willing to take money out of a failing business, while leaving workers and customers in the lurch, and both Holyrood and Westminster governments hold many more contracts of the same kind. Ministers need to act now to make sure we don't face another such collapse, either in Aberdeen or anywhere else.
********************
Next week, Scotland's live music venues will be beating the drum in the Scottish Parliament.
Not, on this occasion, a musical performance, but instead evidence to the Local Government Committee on how planning law needs to change to stop venues being forced out of business.
Too many pubs and clubs in our city centres have had to close down because of complaints about noise from new neighbours, even though the venue was there first.
I have been campaigning for a change in the law, so I was delighted when the Scottish Government agreed last week to endorse the Agent of Change principle in planning policy. From now on, councils will require companies developing new homes next to a music venue to pay for any soundproofing which is required, rather than expecting the venue to foot the bill.
That is an important step in the right direction, but I expect the music industry will tell MSPs next week that further action is required. If we want to hear great bands and great music in future, we need the venues to make it happen.