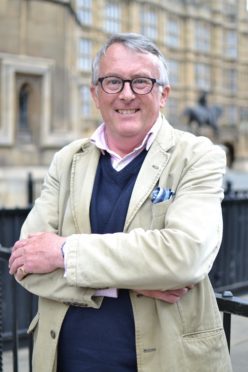 Readers know of the Royal Bank of Scotland's proposal to close many of its local branches.
Three of them, Tongue, Tain and Wick, are in my constituency.
I and others have been trying hard to persuade the Royal Bank (RBS) to change its mind; we hope for the best, but today I want to tack in a slightly different direction.
To an extent RBS particularly copped the public opprobrium for two reasons.
Firstly because we the taxpayers bailed them out when they were going bust a few years ago, and secondly because their timing was so bad.
We were all aware of the continual dismal litany of banks closing branches.
"Oh my, there goes a couple of Clydesdale ones. Sad."
"Dear me, there's the Bank of Scotland shutting branches too."
It was like a dull toothache. Something which we moaned about. There were protests, but they were not in the same league as RBS.
RBS was the straw that broke the camel's back of public patience. In the public mind we suddenly went from a toothache to an abscess. It was too much and the populace roared their disapproval.
But let me pause here while we wait and see what happens next. RBS blinks first and caves in? The government, which owns much of RBS, steps in and tells them to keep their branches open? We wonder.
Meanwhile consider the ATM (invented by a Ross-shire man, the late John Shepherd-Barron).
When you take cash out, do you necessarily notice the name on the ATM?
"Um, well it was at the supermarket… but I do know that there was no charge."
The name of the bank or company running the ATM is a secondary consideration.
So why don't we do the same for depositing cash? If Scotland's banks were to work together, perhaps establish a jointly-owned subsidiary called something like 'Scottish Bank Counters', then this could be a way forward.
A 'Scottish Bank Counters' branch in every community over a certain size, and numerous mobile ones to cover the rural areas. Why not? Real face-to-face advice – and the ability to accept cash and cheques – regardless of which bank you are actually with.
"You are worried about this unexpected debit you can see online? Let's have a look and see what's going on."
It's peace of mind versus nagging worry. And that's a big deal.
So this is my suggestion: and it is indeed tacking in a different direction. I have raised it in the Commons – and perhaps more importantly I have written to the Chancellor of the Exchequer. I await his reply.
We shall see what RBS or the government will do – but the bottom line is that we need face-to-face banking facilities in our communities. Simple as that.
Standing in for an MP friend, I positively smacked my lips at the thought of it.
I boasted to the Whips Office of it, I took a light breakfast, I polished my shoes, oh what a repast it was to be.
I went early to Dining Room D in the House of Commons, just to see that everything was all set and proper, don't you know. I wasn't disappointed.
Chivas Regal, The Glenlivet, Beefeater gin, Martell cognac, you name it – and the table looked lovely too.
Two types of wines – no, dash me, three – I didn't like to be so vulgar as to bend down and read the labels, but clearly this was top-notch stuff.
"The world's second-largest wine and spirits seller" I read online. They were having their board meeting in the House of Commons and I was to lunch with them as their substitute sponsor.
Ah here they were, the board, descending the steps down from Central Lobby.
In the corridor I greeted them in sage and dignified fashion. They shook my hand, and then went in for a first drink.
"Thank you so much!" said the chairman of the board, and shut the door behind him.
Later my intern Corinna and I had a simple lunch together. Just the two of us.
I stood up to speak – and barely before I got the first words out, a plummy voice spluttered "Who the hell is that?"
Nicholas Soames, Winston Churchill's grandson – I later reflected that this had to be the first time in history that a member of the Stone family had crossed the Churchill family radar.
Defence is what I do in Westminster.
In the Commons I shadow the secretary of state for defence and I work on all things to do with the security our country. It's a job I love.
Next Monday, I have an oral question about housing for armed forces personnel. It's an issue – and there is evidence that the condition of housing and the speed of repairs is unsatisfactory.
This week I was approached by a Tory MP who asked if I would join him and a Labour colleague and form a small group to give thought to the kind of aircraft the RAF will need in the future. I gladly accepted.
You see there is a kind of cross-party consensus when it comes to defence. There is a common feeling that we must do our best for all those good and brave people who are prepared to defend us.
The House of Commons at its best.