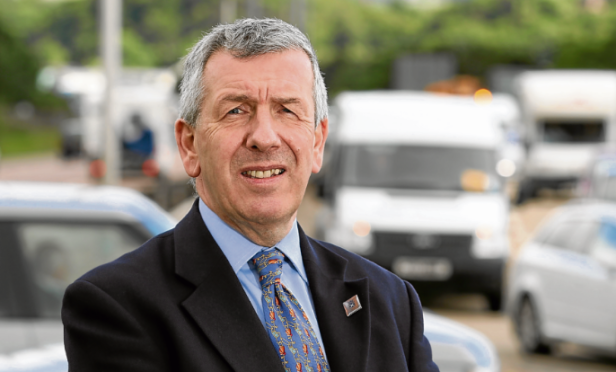 I think it appropriate that I start this column in recognition of the centenary of the RAF.
We all owe a debt of gratitude and honour to the RAF and the role that they play in the defence of our nation.
A little more than seven years ago, I brought to the chamber in the Scottish Parliament a members' business debate to discuss concerns about the possible closure of RAF Kinloss.
The cross-party campaign was supported by all the party leaders at that time: Alex Salmond, Annabel Goldie, Tavish Scott and lain Gray.
I argued then, and I argue today, that armed forces personnel have a social covenant with our country, at times of peace and at times of war.
During times of conflict, I always remember the lines from John Maxwell Edmonds that are repeated every remembrance Sunday across Scotland and beyond – "When you go home, tell them of us and say, For their tomorrow, we gave our today".
The importance of the social covenant was best illustrated to me 25 years ago when the American naval base in Dunoon closed, with a loss of 1,500 American personnel.
The local community rallied round and set up a dynamic economic committee that received European and Government funding support to diversify the economy and provide new jobs.
My father did his national service with the Royal Air Force at Kinloss as a fresh-faced 18-year-old, nearly 70 years ago.
During my last year of school in the Highlands, I thought seriously about joining the RAF, but instead I chose the less hazardous conflict zones that come with a career in politics.
However, during my time in Westminster, from 1997, I relished the opportunity to serve with the RAF for two terms as part of the armed forces parliamentary scheme.
During my involvement with this scheme, I had direct experience of RAF Kinloss and RAF Lossiemouth, as well as a memorable week in Basra, in Iraq, which will forever be etched in my memory.
I flew in a Tornado fast jet, a Nimrod maritime aircraft and a Sea King search and rescue helicopter.
I am delighted that RAF Lossiemouth is again ready to embark on a massive building project to house the new P8 Poseidon Maritime aircraft and it will be a massive boost to Moray and the wider community to once again welcome the increased service personnel and civilian workers to this base which will have a real positive impact on the local community.
I was delighted to learn that, after eight years of campaigning, the UK Government is to trial a form of graduated licence.
Away back in 2010, after the unfortunate and tragic deaths of two 17 year old teenagers in Inverness, I started a campaign to improve road safety, which I proposed was carried out through a form of graduated licence (GDL) introduced in Scotland as a pilot.
My initial campaign was called Sensible Driving – Always Arriving , and over the last eight years I worked closely with Dr Sarah Jones of Cardiff University, who could evidence that in Scotland alone, if a form of GDL were introduced, up to 22 lives could be saved and up to £80million to the Scottish economy.
I met and also communicated with representatives from the Transport Research Laboratory, The RAC Foundation and BRAKE the road safety charity, along with other similar like organisations.
I contacted successive Cabinet Ministers and their deputies on this one issue alone and finally, in response to my most recent correspondence, Jesse Norman MP, the Parliamentary Under Secretary of State for Transport, wrote to advise me the government has now decided to introduce a form of GDL in Northern Ireland as a pilot with the potential to roll out across the rest of the UK.
As anyone who knows me will tell you, football and politics are my passion – and football involving Inverness Caley Jags in particular.
Last summer was spoilt well and truly, as I, like so many fans, had to come to terms with our relegation.
Eventually I consoled myself that we would come straight back up to the premiership, but alas after such a cruel blow in the 95th minute last Saturday against Dunfermline that now looks highly unlikely.
Notwithstanding this fact, I am much more hopeful now that we can do well next season, as the team looks like it has gelled together with 10 games now being played without defeat.
So well done to John Robertson and his team. Very much a case I fear of so near and yet so far.
Still on the football theme, I read the P&J column a couple of weeks ago by Douglas Ross MP.
I can relate to parts of what he stated when he advised that he can sometimes get more abuse for being a politician than he does as a linesman.
I came into politics because I wanted to be in a position to help and support others, but sometimes you have to put up with a fair amount of hassle or on occasion abuse from those who do not follow your beliefs.
Mind you I miss Douglas not being an MSP – when he ran the stand sideline at home games, it fair gave me a chance to correct his more obvious errors with the flag.