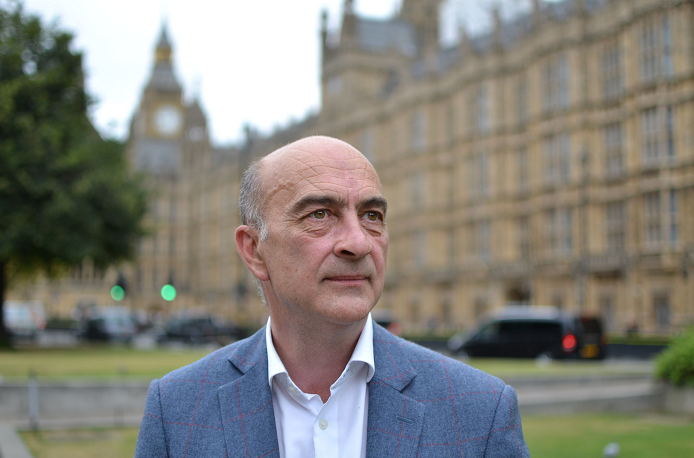 "My gladiator lay down his shield and gained his wings."
The words of the father of Alfie Evans as his beloved son died on Saturday. Nobody can doubt the pain and anguish he and Alfie's mother have been through. The most personal of tragedies in the blinding glare of publicity.
Many of us will wonder how we might react in their shoes. Few of us really know for sure. All of us would do whatever we thought was right for the most precious thing in our lives. Our children.
Little Alfie's life had been short but his death has tugged at heartstrings and raised deep and raw emotions. The personal grief of his parents and the life and death battle of their son has hit the headlines around the world. Talk shows in America made it their top topic. The Pope intervened. Demonstrators gathered outside Alder Hay hospital in Liverpool. His struggle has become a talking point and a divisive issue.
A wee boy's right to live, or right to die? And a seemingly simple question: who decides?
And through it all, a cacophony of cant. A hijacking by religious and political extremists. A barrage of misinformation and ignorance and a twisting of facts. Some, a vocal few, grabbing the self proclaimed moral high ground to further their own narrow objectives and spout nonsense from on high. But, truth be told, they don't occupy the pinnacle of morality at all. They merely sit in inglorious isolation whistling in the wind, hoping their tune will reach a few receptive ears. They don't care about Alfie. They only care about themselves. They do his parents a disservice.
At this point, let's get something straight: I have no criticism of Alfie's mum and dad. My heart breaks for them. I have no doubts at all that they fervently believed that everything they did and wanted to do was for the best for their son. Their motives were pure love.
But the medical team disagreed with what should be done. The medical team which had cared for Alfie for 14 months. Doctors and nurses who are dedicated, professional and loving. Pure in their objectives. Compassionate in their decisions.
But their advice was at odds with the parents.
Which takes me to the central question again: who makes the final life and death decision?
I write this as someone who has faced the dilemma. Not for a child, but as many others have, for a parent who was critically ill. Who, because of drugs, was not in pain, but for whom life was nearly over. And for whom, without pain relief, would suffer. And for whom, staying pain free meant increasing the pain relief to such a high dose which would lead to a pain free death. In truth, we had no choice because we knew that we could not let my mum suffer.
And in Alfie's case, that is also the nub of the case. Would prolonging his life, moving him to Italy, or Russia or America be free of more suffering? Or would it create more suffering? Should the views of his parents hold sway over those of the doctors?
So: Who speaks for Alfie?
"The wishes of parents should be paramount. The state should not own our kids" according to Nigel Farage who became the voice of the evangelical right in the USA on Fox News.
Really, Nigel? You really trust every parent in every situation to make the best decision for every child? The doctors are always wrong? And, for the record, this was not an argument between the parents and the state. But an agonising and anguished discussion between two sets of people who cared for Alfie.
"Government is not God", said former US governor Mick Huckabee as part of a US assault on our NHS. Or "socialised healthcare" as they tried to label it. No, governor, government is not God. Neither are you.
And, quite frankly, I don't think we need any religious input at all. This is about care and compassion and a child. And whilst I have your attention, I will not take any lectures from the USA about proving best care. The good old USA where there is universal healthcare. For those few who can afford it.
So, what next? There are calls for an Alfie's Law to give the voice of parents greater sway, even supremacy over those of the medical experts. This case, they argue, is a compelling catalyst for change.
I'm not convinced. Indeed the opposite may be true.
However harrowing, however much the anguish and however loud the protests, I think the right conclusion was reached.
The system worked. A voice was found to speak for Alfie. Not the state. Not God. Just compassionate law. Not perfect I know. It never can be. But the best we can do.
It is time to let Alfie lie in peace.
The last few days have not been short of big news.
The trials and tribulations of government ministers at Westminster and Holyrood.
The wonderful news about Scots Tory Leader Ruth Davison and her partner Jen expecting a baby in the Autumn. The book is open on the name…
Meanwhile, another Royal Prince in the shape of Louis Cambridge.
And a week of two new "bromances".
The sight of the premiers of North and South Korea at last getting together and jumping in and out of each other's countries over that wee stone wall which has become the biggest divide in world politics. They held hands and the world holds its breath in real hope for the future.
And in Washington, two other presidents held hands. And hugged. Their wives looked on.
Macron and Trump. New besties. Or so Donald thought as he picked a piece of fluff from his French counterpart's shoulder to ensure he was "perfect".
And the photos. Two guys and two girls, none in the first flush of youth anymore, in matching colours and iconic poses… but who've still got it…
Or am I getting confused with the ABBA reunion?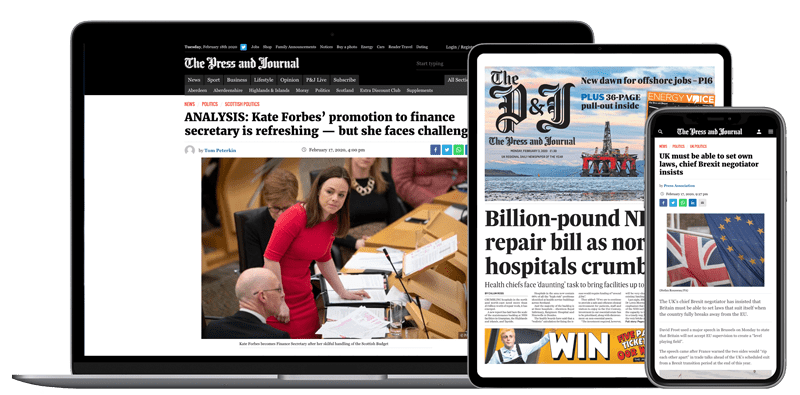 Help support quality local journalism … become a digital subscriber to The Press and Journal
For as little as £5.99 a month you can access all of our content, including Premium articles.
Subscribe