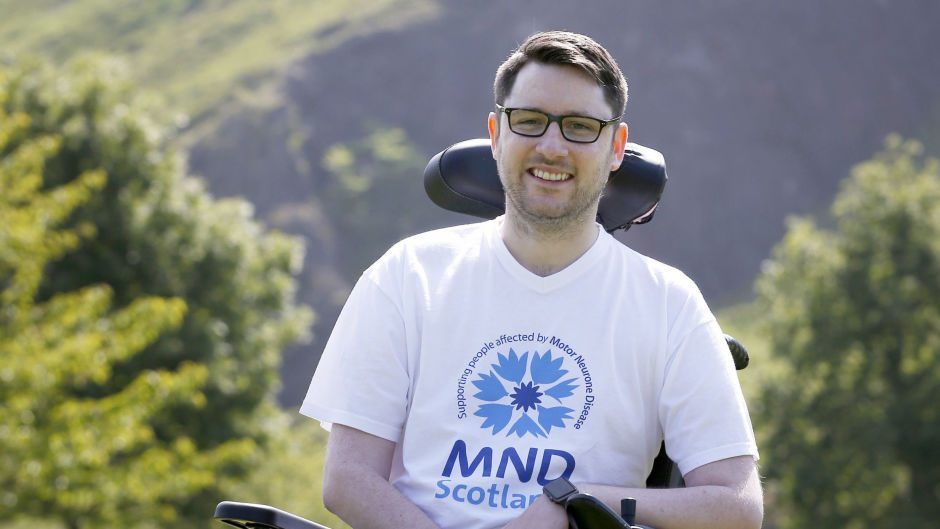 This is MND Awareness Week. It is a cause which matters to me. Last year I lost a friend to the deadly, degenerative disease. He was Gordon Aikman and Gordon's Fightback Dinner will be held in Edinburgh on Thursday to celebrate his life and to build on his legacy.
From the day of his diagnosis he was a tireless campaigner. Gordon knew he would die. But he was driven to make the lives of others who would contract MND a little bit easier. He was driven, as Doddie Weir is now, by a passion to make the most of every minute. To live his life to the full and to give the gift of longer life to others.
I remember with a knot in my stomach the time he came to Downing Street and spoke with an eloquence and honesty which brought a tear to every eye in the room. We listened in silence as he faced up to his fate, but we were filled with pride to call him a friend. And with a mixture of anger and hurt that Motor Neurone Disease had made him its next victim.
But the inspirational work he did, and his hope, no his belief of finding a cure for others, drives us forward. That journey of hope is one that we are determined to complete. Much has been done. But there is so much more to do.
So this week I've decided that this column can do no better than let the words of one of Gordon's closest friends, Lawrence Cowan, the Chair of MND Scotland, speak to you directly. He's from Aberdeenshire, so listen up…
In Scotland, we're seeing a research revolution in MND. That is down to incredible people like Gordon who, when faced with this devastating disease fight to help future generations.
I miss Gordon every day. But the reality is that he lives on in the labs across Scotland. They not only have his DNA for research but the money he raised means MND Scotland is investing in research like never before.
With our Research Strategy we plan to have invested a total of over £2.4 million in cutting edge science. The reason we can do that is because of people like Gordon, Lucy Lintott and the amazing people who get behind our work.
The money Gordon raised is making a massive difference. He is still helping us find new leads in our fight against MND.
He's helped make new discoveries. Chris Henstridge, a researcher we are funding at the University of Edinburgh made a discovery that may open a whole new field of MND research which could ultimately unlock novel treatments.
He's helping us unravel the genetics of MND. Danielle Leighton our Clinical Research Fellow, is helping identify genetic abnormalities in people with MND in Scotland and how these link to symptoms.
He's helping us explore why MND happens and new avenues for treatments. Gareth Miles, a researcher at the University of St Andrews, is using stem cells to grow motor neurones and glial (supporting) cells to study how they interact and try to understand why motor neurone loss happens.
And he's helping lay the foundations to bring clinical trials to Scotland. The CARE-MND database, funded by MND Scotland and hosted at the Euan MacDonald Centre in Edinburgh, is providing us with detailed data on the disease in Scotland. We have DNA samples and can track how people are cared for and patients who can be involved in trials. This is all in one place. This is what will help us bring drug trials to Scotland faster.
Gordon and I always spoke about bringing drug trials to Scotland. It was the dream he never got to realise.
The last drug trial to come to Scotland was almost 20 years ago. For Gordon and for everyone going through this disease, MND Scotland is determined to change that. Within the next two years of this strategy there will be MND drug trials in Scotland. I want them to come now. I am determined to make it happen. We've waited long enough. We don't have time to waste. Now is the time for trials to come to Scotland.
And we all need to work together to achieve it. That's what MND Scotland's Research Strategy is all about. Being bold and working together to bring trials to Scotland and support cutting edge research that will take us closer to a cure.
To make our 2017-2020 Research Strategy happen we're putting an extra £1.2 million on the table to boost our efforts to beat MND. That takes our total commitment to research so far to £2.4 million. That extra funding means three more PhDs, a new Clinical Research Fellowship and more cutting edge research projects.
But we can't do this alone. We will keep working in partnership with big centres of excellence like the Euan MacDonald Centre and leading scientists across the UK. The Scottish and UK Governments and the pharmaceutical industry also have a big role to play. And, we can do even more if more people donate and get behind our ambition.
Gordon wanted to start a research revolution in Scotland. He wanted to find a cure to stop this cruel disease from taking any more lives.
I believe we can be the generation to cure MND. Together we will do this.
You can help. You can raise awareness and you can share these words. And you can take part in the fundraising dinner from the comfort of your armchair. There is an amazing auction which will be open to everyone from later today.
Log onto
https://www.gordonsfightback.co.uk
and see the astonishing list of donated prizes for which you can bid. And if you can, please spare a quid or ten on the donations page. Every penny can take us one step closer to finding that cure.
Come on Scotland, together we can do it.