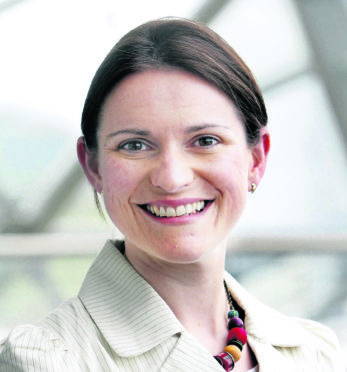 There are now just over 200 days left before Britain leaves the EU.
Decisions taken in the next few months will shape our country's future for generations to come.
That's why it is so distressing we have a Tory government in Westminster with absolutely no clue how to strike a deal, led by a Prime Minister who has lost control of her own party – never mind the country.
And at a time when we need a strong opposition more than ever, my own party is letting Theresa May get away with it.
In a TV interview this week, Jeremy Corbyn was unable to even acknowledge that the UK will be worse off outside the EU.
Meanwhile the SNP – as always – is focused on its dream of independence, even though the Scottish Government's own figures this week revealed a £13 billion deficit that demonstrates the scale of austerity facing an independent Scotland.
What an unseemly mess.
There is now a very real chance of a 'no deal' Brexit and that would be catastrophic for the north-east economy.
A hard Brexit under the Tories could immediately cost an average worker in Aberdeen around £160-a-year.
And we already know that Aberdeen – along with Edinburgh – will be among the hardest hit cities in the UK.
That's because, in the modern economy, the services sector employs millions of people and sells its products across the EU.
What the north-east will lose, cities across Ireland, France and Germany will gain.
There is no such thing as a good Brexit deal. If we leave the EU, jobs will be lost and livelihoods will be put at stake.
So if we are to leave next March, we should choose the least-worst option for our economy, which is remaining in both the Customs Union and the Single Market.
Leaving the Single Market could cost up to 80,000 jobs in Scotland and it's deeply frustrating that the Labour Party leadership still refuses to recognise why UK membership is so vital.
Ultimately, the deep splits in both the Tory and Labour parties are just one reason why I believe the decision about the Brexit deal is too important for MPs to make and it's why the voters should have their say.
That way, we can decide if a decision that will affect our lives for generations makes the country better or worse off.
Many people in the north-east voted for Leave in 2016, but now that the claims about NHS spending have been exposed as lies and the way the Leave campaign cheated on campaign spending has come to light, people have a right to change their mind. That's what democracy is about.
I support a People's Vote on Theresa May's final Brexit deal, and opinion polls show there is strong support for that across the UK.
Time is running out, but it's not too late. We can still take back control of this botched process from the Brexiteers.
I have an admission: to date my mum has helped me sew on my son's Beaver badges.
Her wonderful needlecraft is in direct contrast with my own. My worst subject at school was sewing in Home Economics.
I had to take my Cuthbert the Caterpillar fabric circles home to finish off and my attempt at a soft toy rabbit looked strangely as though I had struck the poor creature with myxomatosis.
I blame my poor skills on being left handed, but I know this is a lame excuse.
However, this week I had to brave my needlework failings. My parents have my Aunt Dorothy and Uncle Andrew over for a fortnight from Australia and are doing a Highland tour.
I have five Beaver badges to be sewed on and no mum to help.
I have turned to YouTube to find I am not alone in seeking help with Beaver badge sewing and discovered Babs, who has given me a renewed confidence that I can get these badges sewn on.
To my surprise I have managed four; but the Jock Neish Scouting Centre badge from Angus will have to wait. I have no clue where to sew it.
In the European Parliament, I am vice-chair of the committee which oversees consumer protection.
One of the issues that has dominated my work in recent months is copyright law.
It sounds quite dull, but proposed reforms could have an impact on every single person who uses the internet.
Demands for reform stem from technological developments in the way that copyright-protected works are created, produced and distributed.
There is an understandable desire to protect the work of authors and performers.
But the proposals backed by the European Commission have gone too far and as a result anything which could be seen as a copyright breach risks being automatically deleted from websites such as YouTube, Twitter or Facebook.
That could include memes because the uploader doesn't own the original photo or karaoke videos because the uploader doesn't own the original song.
An example came during the World Cup when a video of a seven-year-old boy celebrating footage of a Harry Kane goal was removed.
MEPs will debate this issue in September and I will continue to fight the copyright crackdown while I still have my seat at the table.
Brexit will have no impact on how these international websites operate, but it will have an impact on Britain's ability to shape legislation.