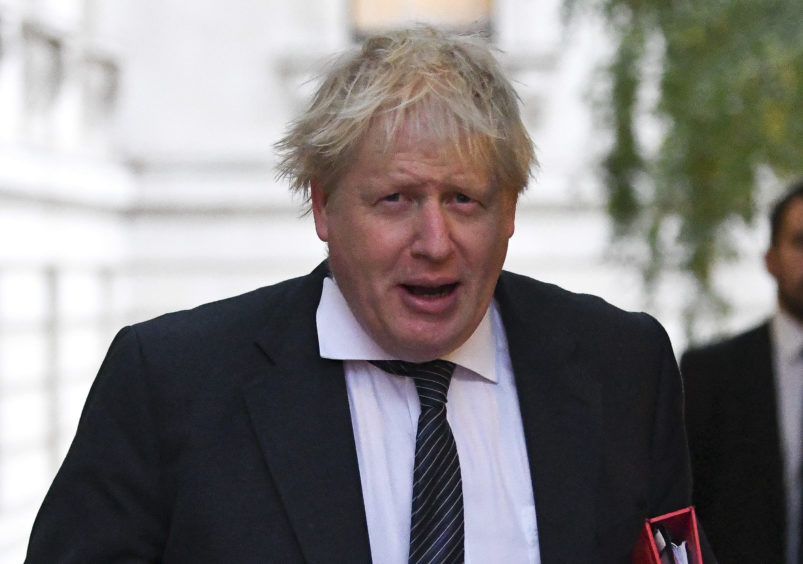 The Scottish Parliamentary journalists' brief encounter with Boris Johnson at a distillery in Moray last week was one of the stranger experiences of the election campaign so far.
The pampered gadabouts of the Central Belt-based political press corps (myself included) had to catch the 0530 ScotRail service to Elgin (changing at Aberdeen) in order to meet Mr Johnson.
From Edinburgh and back it involved a nine hour train journey for the privilege of spending just 10 or so minutes with an unpunctual prime minister.
No wonder there were some irritable political editors waiting for BoJo when he finally turned up at the Roseisle Maltings, well over an hour later than advertised.
Amid the fraying tempers, however, there was a lighter moment that lent an absurdist moment to the Conservative Party's latest production of "Waiting for Boris".
An intruder carrying a banner consisting of the Saltire decorated with the EU stars somehow found his way into the room where the impatient press were ensconced.
Given the flag he was waving, it was not too difficult to guess that his pro-Scottish independence and pro-EU sentiments clashed with Mr Johnson's pro-Brexit and pro-UK position.
"I'm very unhappy not to be allowed in," said the protestor before he was unceremoniously removed from the room before the prime minister's arrival.
Once journalists and distillery workers were taken out of the equation that appeared to be about as close Mr Johnson got to an actual member of the public on last week's visit to Scotland.
Avoiding contact with the great unwashed seems a strange strategy for a political leader, who, we are told, is a formidable campaigner.
Mr Johnson's supporters say that the prime minister's magnetic charisma is the Conservative's greatest asset on the campaign trail. It was this, the argument goes, which enabled him to beat Ken Livingstone to become London Mayor in 2008.
Despite his Etonian and Bullingdon Club background, apparently Boris has the common touch. So why is there a reluctance to press the flesh in Scotland?
That question came up when Mr Johnson was finally ushered into a room full of sleep-deprived and simmering hacks, despite there being a host of other issues to be squeezed into 10-short minutes.
Jacob Rees-Mogg's grossly insensitive remark about the Grenfell Tower fire victims was one. The resignation of Alun Cairns as Welsh Secretary was another. So was former Aberdeen South MP Ross Thomson's decision not to defend his seat after allegations (denied by Mr Thomson) that he groped a Labour MP.
Despite these matters of importance, Mr Johnson's unwillingness to engage with the Scottish public rankled enough with the fourth estate for questions to be asked about his avoid-the-voters campaign strategy. As prime minister his three trips to Scotland have been confined to the distillery, an Aberdeenshire farm and the Faslane naval base – all of which were closed to the public.
"Why are you frightened by Scottish voters?" Mr Johnson was asked.
"Absolutely untrue," replied the prime minister, who claimed to have met "many, many" Scottish voters.
"When?" came the cry.
"You're a Scottish voter, aren't you?" Mr Johnson said with an air of desperation, turning to one journalist asking the question.
His attempted wisecrack bombed. Wriggling, the prime minister then tried to argue that journalists "hadn't necessarily been there" when he was glad-handing the Scottish public.
"So you've been surreptitiously going around the streets of Elgin?" retorted a voice laden with disbelieving cynicism, which, on this occasion, was entirely justified.
So even though this election has been dominated by a series of major controversies to engulf the two major parties, Mr Johnson's failure to play to his so-called strengths as a campaigner has not gone unremarked.
It might be tempting to relegate the prime minister's unwillingness to a subplot when compared with Brexit, Scottish independence and the other serious issues of this campaign.
But Mr Johnson should be warned that experience tells us that hiding from the voters can have unhappy consequences for politicians. Look no further than Theresa May's disastrous 2017 snap election campaign. Mrs May's attempt to run a hermetically sealed campaign that shielded her from the voters ended in tears.
Those who were there, find it difficult to forget a cringeworthy effort to choreograph a door-knocking session in Banchory in a vain attempt to persuade voters she wasn't scared of them. It resulted in ridicule, because most of the houses were empty. And the one person that was around was simply not interested in speaking to the then prime minister.
By then the narrative that Mrs May was hiding from the public had well and truly taken hold and was undoubtedly a factor in her losing the Conservative majority which caused so many of the problems Mr Johnson now faces.
Given Mrs May's obvious discomfort when it came to face-to-face campaigning, perhaps the reasons behind her misguided strategy could be understood.  That does not apply to Mr Johnson who is supposed to be consummate campaigner. The prime minister ignores the public at his peril.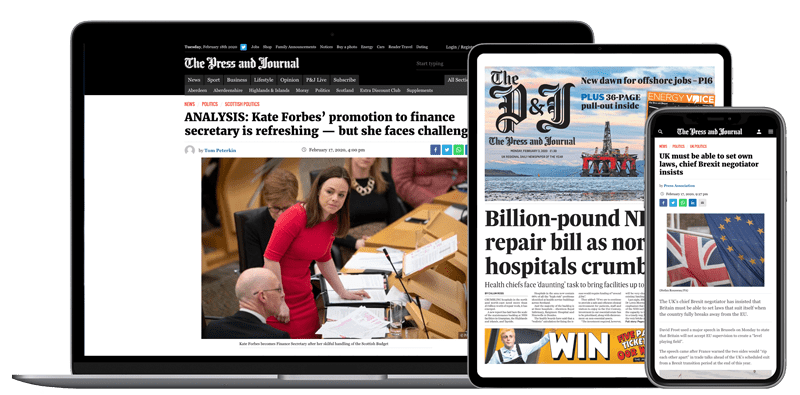 Help support quality local journalism … become a digital subscriber to The Press and Journal
For as little as £5.99 a month you can access all of our content, including Premium articles.
Subscribe